Michael Chiarello on The Next Iron Chef
We Chat With Michael Chiarello About Next Iron Chef!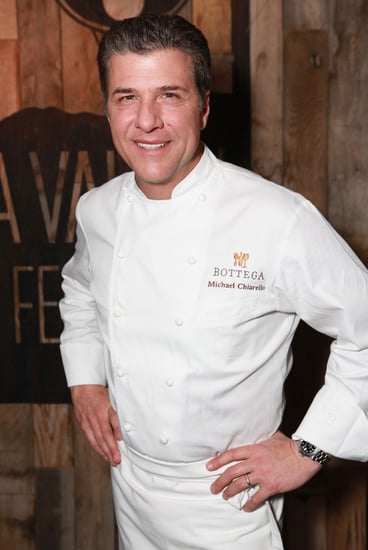 At the Food & Wine Classic in Aspen, I sat down for a quiet chat with one of my favorite food personalities, chef and restaurateur Michael Chiarello.
The chef looked laid-back, but debonair in a yellow sweater and formfitting black pants. We talked about his participation on the fourth season of The Next Iron Chef and his other upcoming projects, which include an iconic restaurant and live-fire cookbook!
To find out what he had to say, read on.
YumSugar: Your restaurant, Bottega, has been open for a few years already, and it's still doing really well. Do you have any future restaurants in the works?
Michael Chiarello: I'm at that stage in my career where the next place has to be in a great iconic location. It has to be an iconic idea — something I am passionate about. I don't do restaurants to make money; I do them to say something, to make a statement. I'm currently developing the idea, searching for that iconic building location. I can't just go anywhere. Some people can do that, like my little brother [Tyler Florence] can open a bunch of restaurants wherever — although El Paseo, I just went there, and it was good. They can do it, but I can't.
YS: What other upcoming projects are you working on?
MC: We just opened a pasta shop at the restaurant. It's a catering kitchen that will be cranking out old-school pastas, handmade pastas. I've got a new book coming out. It's all about live-fire cooking. Not just grilling, but fire pits, roasting boxes, grills, oven, spits. The book will be out in Spring 2013.
YS: What made you want to be on The Next Iron Chef?
MC: I came in second on Masters and I thought that was respectable. The only way you can become an Iron Chef these days is if you go on the show. They asked me to be on Chopped, and I said no, but then I heard about the people who were doing Iron Chef, and I thought sure.
YS: So have you started filming yet?
MC: I can't say. I can tell you my strategy. It's the same that I had for Top Chef Masters. There are a number of goals that I have in the competitive cycle. The first is "don't go out early." The second is "get to the East Coast." Because they're shot on both coasts; shooting always starts on the West Coast and is finished on the East Coast. So I want to get to the East Coast. Finally, I want to "get to the podium"; be first, second, or third place.
YS: What's the difference between Top Chef Masters and The Next Iron Chef?
MC: Well, this is how I "think" they're going to be different. On Iron Chef, there's more twists and turns to the ingredients that you use. It's all about the ingredients. You know Fiji Water could be an ingredient. It's more of a cooking competition, while Masters is more of a chef competition. Iron Chef is about how clever you are in the kitchen, about how good you are as a cook.
YS: How come you only did one cooking demo this weekend?
MC: I was doing something in New York and I didn't know how long it would last.
YS: So does this mean you made it to the East Coast and that filming for The Next Iron Chef has started?!
MC: I can't say.