Michael Symon at the Food and Wine Classic
Michael Symon Talks Greek Food, Pasta Chefs, and More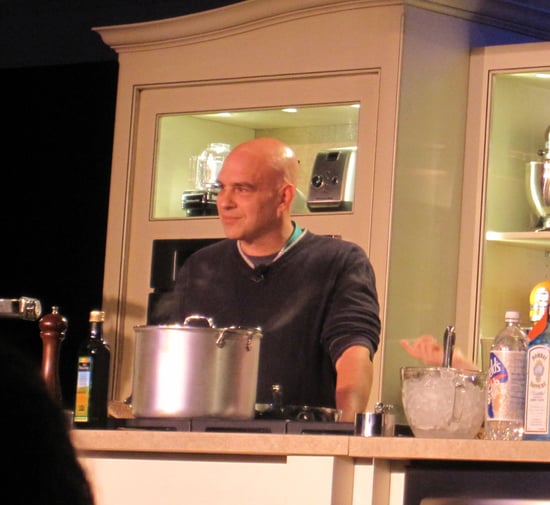 One of the most popular cooking demonstrations at the Food & Wine Classic every year is hosted by Top Chef judges Tom Colicchio and Gail Simmons. However, today's seminar was a little different, as Colicchio had to go to the hospital and couldn't make it. Luckily, another bald chef was on hand to stand in for Colicchio: Iron Chef Michael Symon!
Symon and Simmons cooked one dish each using the same ingredients, except Symon's dish was savory and Simmon's dish was sweet. The featured ingredients were pistachios and basil. While he cooked an amazing-looking ricotta and egg yolk ravioli, Symon got to talking. To see what he had to say about cooking with kids and more, read on.
On cooking with kids: "Get the kids involved and they will be less picky eaters. Have them make pasta with you. Teach them how to garden; get them in the kitchen. I go to my best friend's house, and he has four sons and he makes like five different dinners. I always joke and say, "Is this a restaurant?" When I was a kid, my mom put the food down and we ate it."
On the best pasta chef in America: "Marc Vetri is hands down the best pasta chef in America right now. He rolls his pasta so thin you can almost see the filling through it."
On bacon: "I'll be the first to admit I have a bacon problem. I love bacon with bacon. My favorite bacon dishes are . . . a classic BLT is always good. Braised pork belly is another favorite and so is crackling. You take the pig's stomach, you cut the skin off, and you fry it. Vanilla ice cream with chunks of bacon mixed in is one of the best sellers at my restaurant."
On how his life has changed since he became an Iron Chef: "It's changed a little; I'm in my fifth season. But you know what? It's not the first time I was on a television show. I was on a show on the Food Network 10 years ago that was called the Melting Pot. They're actually airing the episodes on the Cooking Channel now. A bunch of chefs got their TV start on it: me, Padma Lakshmi, Cat Cora, Michelle Bernstein, Aaron Sanchez, Rocco DiSpirito. The only people that watched it back then were in jails or nursing homes. Now, I'm worried people are going to see me on it and think it's current. Bobby texted me the other day, 'Dude I'm watching your show.' And I started to laugh."
On Greek food in America: "I hate to say it but America has really destroyed Greek cuisine. So many people think it's heavy, rich, and sweet. But if you've been to Greece, you'll know that it's not that kind of food at all. It's light, healthy, and clean. I hope that true Greek cuisine becomes more mainstream, but it's tough. I had to close one of my restaurants in Cleveland and reconcept it; it was Greek but it didn't do well. "
Are you a Michael Symon fan?