Michael Symon's Homemade Pasta
Symon Says: Tips For Making Pasta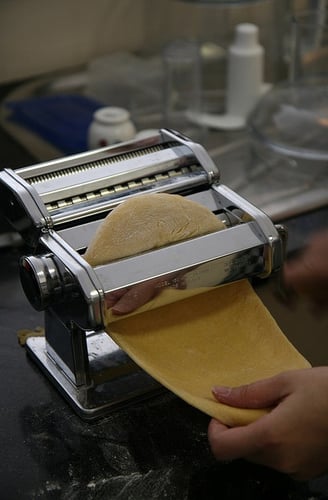 At the Food & Wine Classic in Aspen, Michael Symon not only shared how his life has changed since he became an Iron Chef, but he also provided some awesome pointers for making your own pasta. If you have kids, the Greek-Sicilian chef believes you should have them make the pasta with you. He also stresses that it shouldn't be stressful; in fact, Symon says that it's "soothing to make pasta at home." To learn how to perfect pasta, the Michael Symon way, keep reading.
Although some pasta dough recipes call for whole eggs, Symon prefers to only use egg yolks when making pasta dough. "I like using only the yolks because it makes the pasta richer."
Once you've made the dough, be sure to let it rest for a couple of hours. This will make it easier to work with.
When making sauces that involve fresh herbs, never finely mince the herbs. "You should always tear soft herbs because chopping them with a knife pushes the oil out of the herbs. All the oil will be on your cutting board, instead of in the sauce," Symon says.
Once you start to roll out the dough, be sure to have a spray bottle with water handy. Spray the edges of the dough with water, so they won't get dry.
When making stuffed pastas, keep the filling as close to the edge as possible. Symon is not a fan of too much pasta dough in dishes like ravioli. "The smaller the edge, the better the ravioli."
Generously season the pasta water with salt. The salt in the water helps release the starch in the pasta. According to Symon, it should taste like the ocean. "My grandmother would say 'if you need to season your sauce, you didn't season your water correctly.'"
Do you make pasta at home? Share your experience with us below in the comments.