Michelle Obama Recipe For Apple Cobbler
Michelle Obama's All-American Apple Cobbler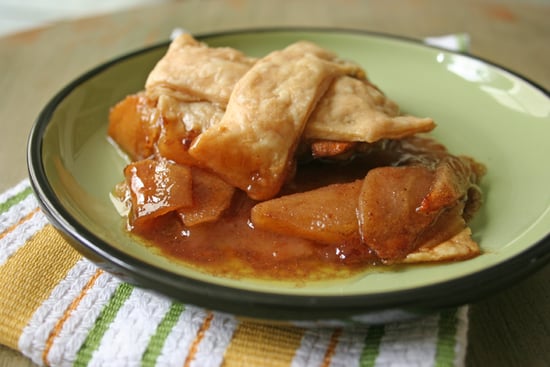 Michelle Obama's first cookbook American Grown will be released on May 29, and we're cooking up some of Michelle's tried-and-true recipes like this apple cobbler, a favorite of President Obama.
The First Lady has a unique, slow method of preparing this cobbler. She marinates the apples in their spicy, sugary juices overnight, then slow cooks the cobbler at a low temperature to gradually break down the apples and crisp up the crust. The end result is absolutely heavenly: the cinnamon and nutmeg are perfectly balanced; the slow marination and long cook-time create a complex, caramel flavor; the apples dissolve upon bite, and the crust is as crispy as promised.
I used the lesser amount of sugar, and opted for a crisscross pattern on the top of the cobbler rather than covering the entire baking dish. Despite the 12 or more hours it requires to make this cobbler, it is a cherished, special occasion treat to be enjoyed during family gatherings or neighborhood barbecues.
Make the recipe here.
Michelle Obama's Apple Cobbler
Ingredients
Filling:
8 Granny Smith apples, peeled and sliced (or a bag of frozen peeled apples)
1 1/2 to 2 cups of brown sugar
1 1/2 teaspoons cinnamon
1 teaspoon ground nutmeg
1/2 teaspoon salt
1/4 cup white flour
Crust:
3 sheets refrigerated pie crust
1 stick of butter
Directions
Mix these [filling] ingredients together in a bowl and let it sit in the refrigerator overnight so the spice goes all the way through the apples.
Preheat oven at 325 degrees F. Butter and flour the bottom of a large baking dish.
Roll out three pie crusts real thin — as thin as possible. Layer the bottom of the pan with 1 1/2 of the pie crusts and prick a few holes in it. Pour the apples with the liquid into the pie pan. Dot 3/4 of a stick of butter around the apples. Use the final 1 1/2 pie crusts to cover the apple mixture entirely (let the pie crust overlap the pan).
Pinch the edges of the dough around the sides of the pan so the mixture is completely covered.
Melt final 1/4 stick of butter and brush all over top of crust.
Reduce the oven temperature to 300 degrees. Bake at 300 for up to 3 hours — that's what makes the crust flaky, like Barack likes it. Put the cobbler in the oven and go for a walk, go to the store, or do whatever you have to do around the house. Start looking at the cobbler after two and a half hours so it doesn't burn. Serve anytime.
Serves 8-10 slices.
Information
Category

Desserts, Cobblers

Cuisine

North American
Love this recipe? Check out more recipes from Michelle Obama and the White House.