Microplane Zester Review
Super Tools: Microplane Zester
Sure, multisided box graters offer different sizes and shapes, but for us, the most essential grating tool to have in the kitchen is the classic Microplane ($15), which produces a pillow of fluffy, lightweight, snowflake-like zest. Almost every chef has one, and here's why: it's portable, handheld, produces even shreds, and is super easy to clean.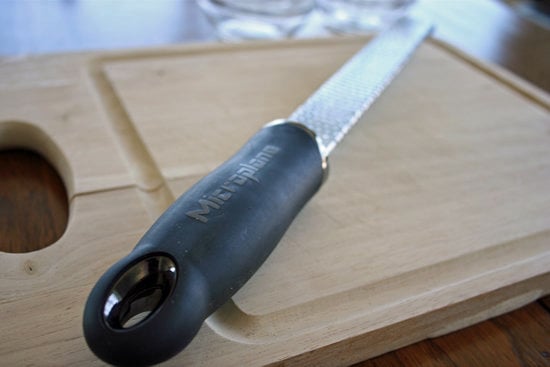 The Microplane was originally used as a woodworking tool, yet in 1994, by pure accident a housewife picked up her husband's new Microplane tool and used it to zest an orange for her cake recipe. The company realized her accidental genius and rebranded the item for kitchens, too. See what makes the Microplane so great.
The Microplane grater's high-quality construction comes from the fact that it's made using photo-etched sheet metal, wherein certain areas of the metal are corroded to produce the grated pattern (rather than simply punching the metal out). The supersharp razors are what produce the Microplane's famously fluffy zest.
There are a myriad of foods to finely zest into fluffy, pillow-like shreds including spices, root vegetables, citrus, and hard cheeses. To maximize the Microplane and turn grating into a quick process, shred the item firmly across the entire surface area of the blades. Be extremely diligent about keeping fingers visible and away from the blade. The Microplane is super sharp and can do painful damage!
Clean with a soapy sponge, and avoid spongy particles from sticking to the blade by wiping the grater side downward in one direction from the tip of the Microplane toward the handle. Flip over and repeat, cleaning the smooth, inner portion of the Microplane in the same direction. Do you own any Microplane graters?