Millet Salad With Pomegranate
Thanksgiving, Meet the Millet, Lentil, and Pomegranate Salad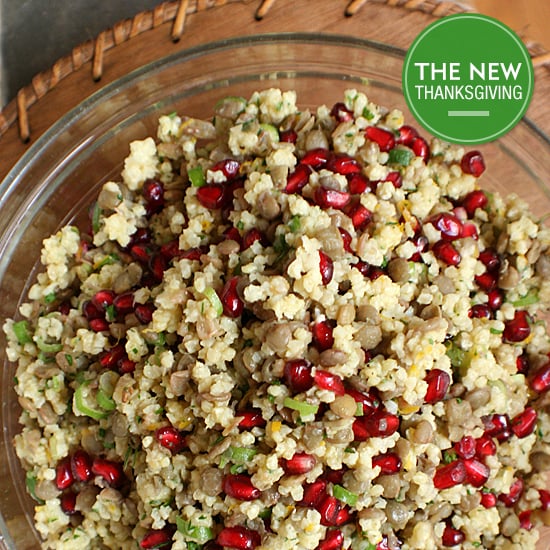 Part of celebrating Thanksgiving is enjoying traditions and favorite recipes, but you can always move things around to make more table real estate for new dishes. My sister and I love to introduce the whole family to unusual ingredients like millet, so last Thanksgiving, we made a new version of our favorite lentil and millet salad. Instead of tomatoes, this version of the salad is dazzled with ruby-red pomegranate seeds. My sister and I marveled at the pleased expressions on our family's faces as they munched the salad and even went back for seconds. In a sea of butter and cream, everyone agreed that it was nice to have something healthful and light on the plate.
The main ingredient in this recipe is the pseudograin millet, a small seed that becomes fluffy and chewable when cooked like a grain. It has a roasted, buttery popcorn flavor that is achieved by dry-roasting the seeds prior to cooking. Imagine how popcorn kernels, when exposed to high heat, pop open to reveal their melt-in-your-mouth interior; the same is true for millet.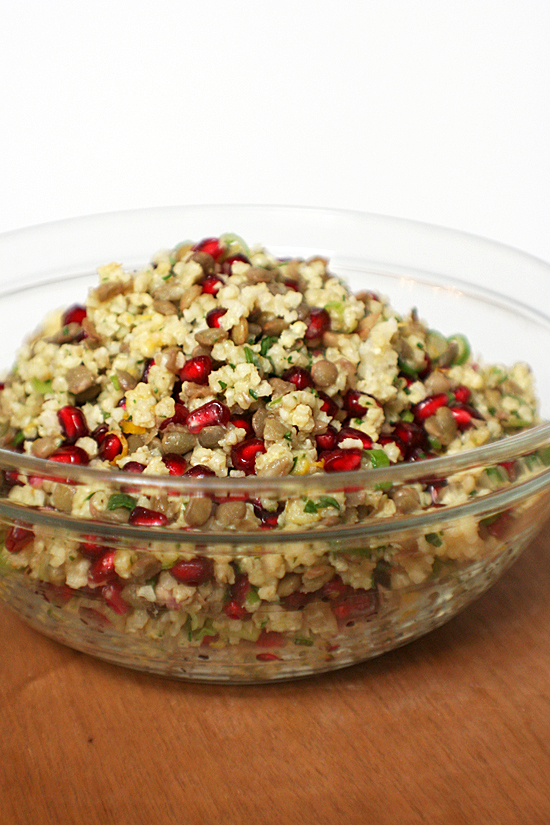 Lovers of legumes will appreciate the starchy lentils, reminiscent of potatoes, dotted throughout the salad. With each bite, the pomegranate seeds burst and dress the salad in their tart juice, so there is no need to add any vinegar. Lemons, parsley, and green onions are simple ingredients that can be found at any grocery store, yet their flavors perk up the roasted flavor of the millet. I love to serve this salad on a bed of spinach, lightly dressed in olive oil and balsamic vinegar.
Make this side dish for your Thanksgiving.
Millet, Lentil, and Pomegranate Salad
From Anna Monette Roberts, YumSugar
Notes
If you cannot find millet, substitute brown rice. However, cook the brown rice according to the package instructions.
If you cannot find Meyer lemons, use one regular lemon and one small orange.
Ingredients
1 cup millet, rinsed
1 cup green lentils, picked over for small stones and rinsed
4 pomegranates, seeded
2 Meyer lemons, zested and juiced
1/4 cup flat-leaved parsley, chopped
4 green onions, thinly chopped
Salt and freshly ground pepper to taste
Directions
In a small saucepan over medium heat, dry-roast millet until the color darkens and the millet smells like toast. Pour 2-1/2 cups salted boiling water over roasted millet and cover. Once millet and water begin to boil, reduce heat to medium low and cook for 30-40 minutes, or until water is absorbed and millet is thoroughly cooked but not falling apart. Keep covered, and cool to room temperature.
Meanwhile, in a medium saucepan over medium heat, cook lentils in 4 cups of water for 30-40 minutes over medium heat, or until lentils are thoroughly cooked. Once water starts boiling, salt to taste. As lentils cook, add more water if necessary, and drain any extra water once lentils are cooked. Cool lentils to room temperature.
In a large bowl, toss millet and lentils in olive oil. Add pomegranate seeds, lemon zest and juice, parsley, and green onions. Salt and pepper to taste.
Serves 4.
Information
Category

Side Dishes, Grains

Cuisine

North American