Ming Tsai, Among Others, to Star in Next Iron Chef 3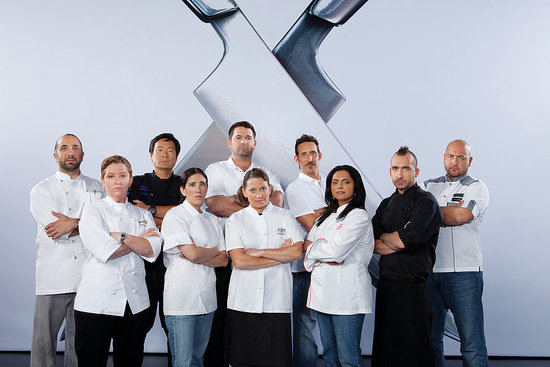 Hot off the heels of Aarti Sequeira's win on The Next Food Network Star comes announcement of new contestants slated for season three of The Next Iron Chef, and the lineup is a little surprising.
Those hoping to become the next Kitchen Stadium superstar include none other than Ming Tsai, who is already an established television personality on PBS, as well as Food & Wine Best New Chef Bryan Caswell. Another notable participant is Marco Canora, owner of New York hotspots Hearth and Terroir. See all 10 chefs who will be competing — as well as my thoughts on the roster — when you keep reading.
The show will be hosted by Kitchen Stadium vet Alton Brown, who will be joined by three judges: returning arbiter and restaurateur Donatella Arpaia, UK food journalist Simon Majumdar, and chef, restaurateur, and former Next Iron Chef winner Michael Symon. The three will decide which contestant is to join the ranks of Bobby Flay, Mario Batali, Masaharu Morimoto, Cat Cora, Michael Symon, and Jose Garces on Iron Chef America. Episodes will be filmed in Los Angeles, Las Vegas, and New York and begin airing Sunday, Oct. 3 at 9 p.m. Competing chefs include:


Marco Canora (New York, NY), chef and owner, Hearth, Terroir, and Terroir TriBeca
Bryan Caswell (Houston, TX), chef and owner, Reef, Stella Sola, and Little Bigs
Maneet Chauhan (New York, NY), chef, Vermillion Chicago and Vermillion New York
Mary Dumont (Cambridge, MA), executive chef, Harvest
Duskie Estes (Sonoma, CA), chef and owner, Zazu Restaurant + Farm, Bovolo, and Black Meat Co.
Marc Forgione (New York, NY), chef and owner, Marc Forgione
Andrew Kirschner (Santa Monica, CA), executive chef, Wilshire
Mario Pagán (Puerto Rico), chef and owner, Chayote and Lemongrass
Celina Tio (Kansas City, MO), chef and owner, Julian
Ming Tsai (Wellesley, MA), chef and owner, Blue Ginger
Considering Ming Tsai once shot down an offer to be on Top Chef Masters, it's surprising that he's agreed to be on the show. In an interview with us last year, he admitted he only wanted to be on a cooking show if he thought he could win, so perhaps he's hoping the odds are in his favor. I'm torn between him and another chef I love, Reef's Bryan Caswell. Who will you be gunning for?