Ming Tsai Talks About His Latest Cookbook, The Next Iron Chef, and More
Ming Tsai Talks One-Pot Meals, Molecular Gastronomy, and More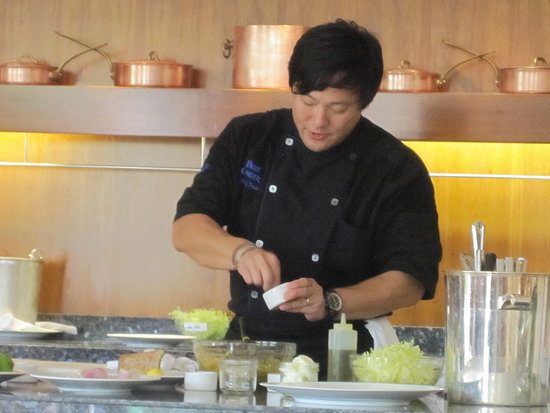 Before his demo at the Food & Wine and Rum Festival in Barbados, the likable chef Ming Tsai sat down for a quick one-on-one interview. Although Tsai was at the tail end of a whirlwind book tour promoting his first cookbook in five years, Simply Ming One-Pot Meals, he wasn't tired of talking about the important message in what he considers his "most timely of all books." To see what Tsai had to say about One-Pot Meals, The Next Iron Chef, and more, keep reading.
YumSugar: Why this book now?
Ming Tsai: We're losing something in this country. Everything is so fast that we are becoming disconnected. When I grew up in Dayton, OH, everything happened at the dinner table. Every night at 5:00, not 5:01, but 5:00, my brother and parents and I would sit down to eat and we would talk about our problems, concerns; the dinner table was at the heart of the family. This book is about getting back to that. You make an easy one-pot meal, bring the pot to the table, and enjoy it. What I didn't realize when I was writing it, but that's also timely, is that it's a very healthy book. There's no butter sauces. Another thing that's great is the majority of entrees can be made with less than $20.
YS: Back in September of 2009, you told us that you wouldn't compete on Top Chef Masters. What made you want to be on The Next Iron Chef?
MT: Well, I thought I was going to win! I'm a very competitive person and when the Food Network approached me, I thought "Why not?" I knew I wasn't going to be the worst of 10 people — if I was the first one kicked off I would have cut my hand off, but I knew that wouldn't happen. The timing was right for me to be away for five weeks. It's the only reality competition that really focuses on the food. We weren't sequestered in a house. There was no drama. I'm really good friends with Michael Symon and when he told me he was going to be a judge on it, I thought "What the heck?"
YS: We are nearing the end of the year. What was the best meal you had in 2010?
MT: Alinea. Hands down. Last year I went to El Bulli, but Grant Achatz is different from Ferran. He takes food and turns it into something that you would never dream of eating. His story is also amazing.
YS: What food trend do you want to see disappear in 2011?
MT: Bad molecular gastronomy. You know what Achatz does is pure brilliance. But he's studied it. It's his forte. These other guys that just grab ingredients and put foam on this or that have no clue what they're doing. Molecular gastronomy isn't like pizza. When you order a pizza there's so many levels, it could be an amazing pizza, a really good pizza, an OK pizza, a so-so pizza, a bad pizza, etc. With molecular gastronomy there isn't that distinction. The food is either brilliant or disgusting. There is no in between.