 For some reason, I never seem to buy broccoli. It's not that I don't like it, it's that I never seem to purchase it. However, I've decided to hunt down some new recipes that will force me to eat more broccoli.
This weekend I'm thinking of making this broccoli, chickpea, and cherry tomato salad. The broccoli is steamed, and a mustard vinaigrette holds it all together.
To try this recipe out with me,
.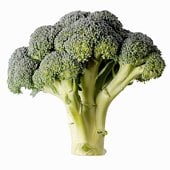 Ingredients
1 pound broccoli, separated into florets (4 Cups)
1 tablespoon Dijon mustard
2 tablespoons red-wine vinegar
2 tablespoons olive oil
1/2 small red onion, finely chopped
Coarse salt and freshly ground pepper
1 pint cherry tomatoes, halved
1 can (15 ounces) chickpeas, drained and rinsed
Directions
In a large saucepan with a steamer insert, bring 1 inch of water to a boil.
Add broccoli, cover, and steam until crisp-tender, 4 to 6 minutes.
In a large bowl, whisk together mustard, red-wine vinegar, olive oil, and onion; season with coarse salt and ground pepper.
Add tomatoes, chickpeas, and broccoli.
Toss to coat with dressing.
Let cool 5 minutes.
Serve at room temperature or chilled.
Serves 6.
Information
Category

Vegetables, Salads