Mini Potatoes With Tomato-Avocado Salsa Recipe
Killer App: Red Potatoes With Tomato-Avocado Salsa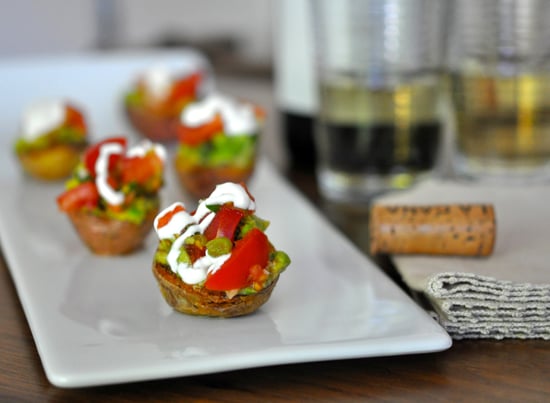 Not so long ago, I fell in love with mini twice-baked potatoes. Naturally, I just had to try another recipe for a bite-size potato; this time I made potatoes topped with tomato-avocado salsa. These potatoes are less labor intensive, but just as delicious. The potatoes are roasted until they're browned and a little crunchy, then topped with the fresh salsa and a dollop of a sour cream.
My guests enjoyed them both warm and at room temperature, so don't worry about serving them right away. Short on time? Pick up prepackaged salsa and guacamole; you only have to roast and assemble. With Summer right around the corner, these small spuds are great for a potluck party or barbecue — no one is able to resist them! Get this easy vegetarian appetizer recipe by reading more.
Ingredients
12 small to medium red potatoes, scrubbed and halved
1/4 cup olive oil
1 tablespoon kosher salt
1 tablespoon minced fresh rosemary leaves
Tomato-Avocado Salsa
8 to 10 plum tomatoes, seeded and finely chopped, about 3 cups
1 cup scallions, finely chopped
1 jalapeño, seeded if desired and finely chopped
3 cloves of garlic, finely chopped
1/4 cup olive oil
1 tablespoon lime juice
2 medium avocados, pitted
1/2 teaspoon kosher salt
1/4 teaspoon black pepper
1/2 cup sour cream, optional
Directions
Preheat the oven to 400°F.
Line a cookie sheet with parchment or silicon pad. Place the potatoes, oil, salt, rosemary in a large bowl. Toss until well coated. Arrange the potatoes cut side down on the cookie sheet.
Bake for 30 to 40 minutes until the potatoes are crisp and browned, stir occasionally to ensure the potatoes don't stick.
Prepare the salsa, in a large bowl combine the tomatoes, scallions, garlic, jalapeño, olive oil, and lime juice. In a separate bowl, smash the avocado and mix in salt and pepper.
Top each potato with avocado, salsa, and a small dollop of sour cream. Arrange the finished potatoes on a large platter. Can be served at warm or room temperature.
Makes about 24 potatoes bites.
Information
Category

Appetizers, Finger Foods

Cuisine

North American