Mini Twiced Baked Potato Recipe
Killer App: Bite-Size Twice-Baked Potatoes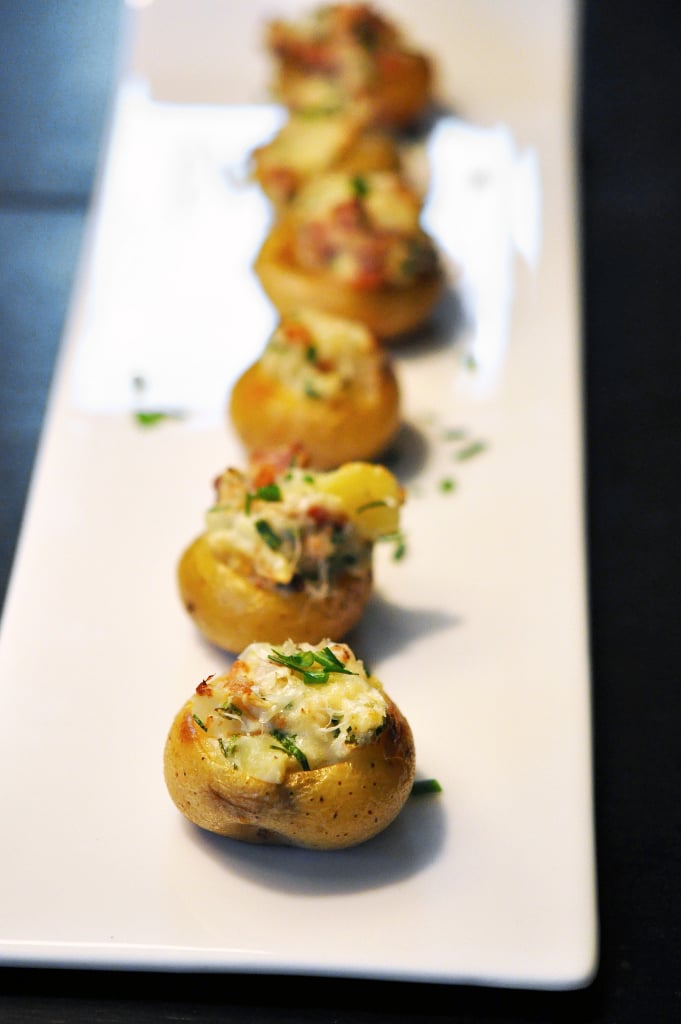 Twice-baked potatoes are an iconic American dish that's often served as a side, but why not make them mini and offer as an appetizer? These bite-size twice-baked potatoes are similar to their larger counterparts, yet don't require a fork and knife. Assembling these tiny taters can be a bit of a hassle, however with the right tools (a melon baller or stainless-steel scooper), making them is a breeze.
This indulgent recipe — with sour cream, parmigiano-reggiano, and bacon — is so delicious, if you don't want to make minis, feel free to use the recipe with regular-size potatoes. These are easy to make ahead and bake for the second time just before serving, perfect for your next dinner party or potluck. Miniaturize twice-baked potatoes and keep reading for the recipe.
Ingredients
24 baby Yukon Gold or red potatoes, each about 2 inches across (2 to 2-1/4 lb.)
2 tbs. olive oil
2 tsp. chopped fresh thyme
Kosher salt and freshly ground black pepper
3 oz. bacon (about 3 thick slices), cooked until crispy and crumbled
6 tbs. thinly sliced fresh chives
1/2 cup crème fraîche or sour cream
1/2 cup coarsely grated parmigiano-reggiano
Directions
Heat the oven to 425°F. Put the potatoes on a large baking sheet and toss with the olive oil. Sprinkle with 1 tsp. of the thyme, 1 tsp. salt, 1/2 tsp. pepper, and toss again. Bake the potatoes until they feel perfectly tender when pierced with a skewer, 20 to 25 minutes. Remove from the oven and let rest until cool enough to handle, about 10 minutes. If not working ahead, increase the oven temperature to 450°F.
Carefully hollow out each potato: begin by slicing off the top; use a small spoon or a melon baller to scoop out most of the flesh inside, transferring it to a large bowl. Discard the tops.
Mash the potato flesh with a masher or a fork, then combine it with the bacon, 1/4 cup of the chives, the crème fraîche, the remaining 1 tsp. thyme, 1/2 tsp. salt, and 1/4 tsp. pepper. Season to taste with more salt and pepper.
Using a small spoon and your fingers or a 1 inch stainless scoop , fill the hollowed potatoes with this mixture; it should mound a bit. Sprinkle on the cheese.
Return the potatoes to the 450°F oven and bake until the filling heats through, 8 to 10 minutes. Sprinkle with the remaining chives and serve warm.
Serves 4 to 6.
Information
Category

Vegetables, Appetizers

Cuisine

North American