Miraval Spa Breakfast Recipe
Fresh Starts: Miraval Scramble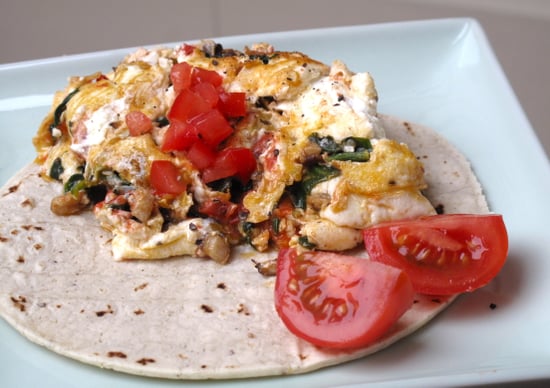 If achieving better physical or mental well-being plays any part in your intentions for the year 2011, then make sure that every day is off to the right start with a healthy, wholesome breakfast. Don't grab a sugary pastry on the go, or — worse yet — skip breakfast, a behavior that's been linked to overeating.
In a new series, we'll offer innovative ways to fuel up with a meal that's packed with protein, complex carbs, or nutrient-rich produce. Up first: a vegetable and egg white scramble that's fluffy, filling, and promises to get you through the day without hitting that wall of hunger or fatigue. My favorite way to serve it? On top of a natural low-calorie corn tortilla. Find a fresh start when you read more.
Ingredients
Vegetable cooking spray
1/4 cup diced fresh shiitake mushrooms
1 tablespoon chopped green onion
1/4 cup diced tomato
1/4 cup packed, chopped fresh spinach
3 egg whites, lightly whisked
1 tablespoon lowfat cream cheese
1/8 teaspoon sea salt
1/8 teaspoon freshly ground black pepper
1 small corn tortilla, for serving (optional)
Directions
Spray a sauté pan (nonstick works best) with cooking spray and warm over medium heat.
Cook mushrooms and green onion for 5 minutes, or until shiitakes are cooked through.
Add tomato and spinach; cook an additional 2-3 minutes, or until tomatoes have released some juice and spinach has wilted.
Mix in egg whites, cream cheese, salt, and pepper. Cook , stirring occasionally, until eggs become supple but remain soft, about 4 minutes. Serve atop a warmed corn tortilla, if desired.
Serves 1.

Nutritional information per serving (scramble only): Calories 110, Fat 2.5g, Saturated fat 2.5g, Carbohydrates 10g, Protein 13g, Fiber 3g.
Information
Category

Eggs, Breakfast/Brunch

Cuisine

North American