Mochi Stuffed With Kale
Mochi Stuffed With Sesame Greens Is Magical and Meatless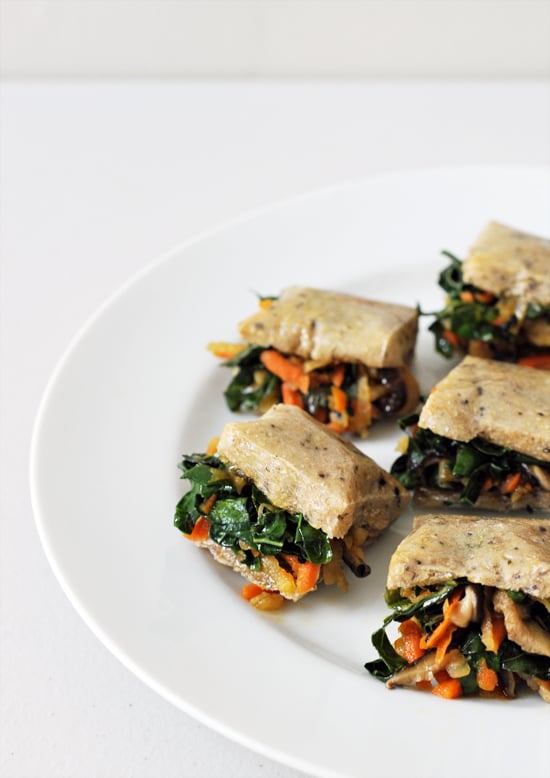 Until recently, I thought of mochi, a Japanese glutinous rice cake, as an ingredient best suited to dessert. Whether served atop tart frozen yogurt or wrapped around green tea ice cream, this irresistibly chewy, slightly sweet ingredient seemed squarely in the realm of sweets. That is, until I started noticing slabs of the brown-rice version nestled up next to tofu, miso, and other Asian delights in my supermarket. Curious as to what to do with this mysterious ingredient, I snapped up a package and flipped through our office's collection of cookbooks until I found an enticing contender.
Firm and unyielding to pressure, the mochi remained mysterious until sliced into cubes (tip: use a sturdy, sharp chef's knife) and heated through. After a turn in the oven, the cubes puffed up as if by magic, their tender, chewy innards exposed between layers of crackly crust. Sliced open and stuffed with savory sesame-glazed vegetables, these puffy bites made for a satisfying dinner that I'll be turning to when looking for a fast and easy meal.
Experience mochi's magic for yourself.
Notes
Mochi is generally found by the tofu, miso, and tempeh. Can't find mochi? Serve the sesame-glazed vegetables atop a bed of quinoa.
Ingredients
1 tablespoon neutral oil, such as canola or grapeseed
1 leek, thinly sliced and cleaned
12 shiitake mushrooms, stems removed, thinly sliced
1 tablespoon liquid aminos, such as Bragg's
1 cup grated carrots
1 cup grated daikon
1 tablespoon mirin
1 1/2 tablespoons soy sauce
1/2 tablespoon rice wine vinegar
1/2 tablespoon toasted sesame oil
1 large bunch kale, sliced into ribbons
1 tablespoon toasted sesame seeds
12-1/2 ounce package garlic, onion, or seeded mochi, cut into 12 squares
Directions
Preheat the oven to 450°F.
Add olive oil to a large skillet set over medium heat. Sauté leek in olive oil until soft and translucent (about 3 minutes). Add shiitake mushrooms and continue cooking. Add liquid aminos to deglaze pan. Continue sautéing until mushrooms caramelize (8-10 minutes total). Add carrots, daikon, mirin, soy sauce, rice wine vinegar, and toasted sesame oil, and sauté until carrots are soft (4-5 minutes). Add kale and sauté 4 minutes, or until tender and wilted. Remove from heat and toss with sesame seeds. Season to taste with additional soy sauce and vinegar.
Place mochi squares on a parchment-lined baking sheet and bake until they puff up (follow directions on packaging). Remove from oven, slice open each puff horizontally, stuff with sautéed greens and serve.
Information
Category

Grains , Main Dishes

Cuisine

North American

Yield

Makes 12 squares; serves 2 to 3 as a main course.