Monday's Leftovers: Chicken Breast With Avgolemono Sauce
Monday's Leftovers: Chicken Breast With Avgolemono Sauce One of my favorite soups of all time is avgolemono, a traditional Greek soup made of lemon, chicken, and eggs. I love it so much that even when I'm not in the mood for steaming-hot soup, I'll still search for something else (like a pasta) that incorporates the same creamy, tangy flavors.
This chicken, plated with orzo, carrots, and avgolemono sauce, is exactly the type of recipe I'd turn to. Serve it if you've got a leftover bird and are seeking a contemporary take on an everyday protein. To make this fuss-free meal,
.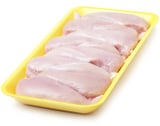 Ingredients
2 tablespoons olive oil
4 boneless, skinless chicken breasts (about 1 1/3 pounds in all)
Salt and fresh-ground black pepper
1 1/4 cups canned low-sodium chicken broth or homemade stock
1 teaspoon dried dill
1 1/2 cups orzo
4 carrots, quartered and cut into 2-inch lengths
2 eggs
2 tablespoons lemon juice
Directions
In a large stainless-steel frying pan, heat 1 tablespoon of oil over moderate heat. Season the chicken breasts with 1/4 teaspoon salt and 1/8 teaspoon pepper and add to the pan. Cook until browned, about 5 minutes.
Turn the chicken; add the broth, dill, and 1 1/4 teaspoons salt. Bring to a simmer, reduce the heat, and simmer, partially covered, until the chicken is just done, about 4 minutes.
Remove the chicken and cover lightly with aluminum foil to keep warm. Set aside the pan with the broth.
Meanwhile, in a large pot of boiling, salted water, cook the orzo for 6 minutes.
Add the carrots and continue cooking until the orzo and carrots are just done, about 6 minutes longer.
Drain and toss with the remaining 1 tablespoon oil and 1/8 teaspoon each salt and pepper.
In a medium glass or stainless-steel bowl, beat the eggs, lemon juice, and 1/8 teaspoon of pepper until frothy.
Bring the chicken broth back to a simmer and add to the eggs in a thin stream, whisking. Pour the mixture back into the pan and whisk over the lowest possible heat until the sauce begins to thicken, about 3 minutes. Do not let the sauce come to a simmer, or it may curdle.
Put the orzo and carrots on plates and top with the chicken and sauce.
Serves 4.
Information
Category

Poultry, Main Dishes

Cuisine

Greek