 If you've got skirt steak left over in your fridge, transform them into a quick meal for a busy Monday night: fajitas. Not only are skirt steaks the cut of choice for fajitas because of their smoky, deep flavor, but they are also thin enough that they cook extremely quickly. To get this easy, breezy, in-a-jiffy meal onto your table,
.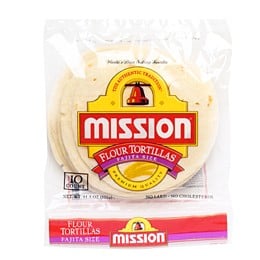 Ingredients
1 tablespoon olive oil
1 1-pound skirt steak, cut into thirds
1/2 teaspoon kosher salt
1/4 teaspoon black pepper
1 large yellow onion, thinly sliced
1 large bell pepper (any color), thinly sliced
1 12-count package corn or small flour tortillas
Sour cream, salsa, and guacamole for serving
Directions
Heat the oil in a large skillet over medium-high heat.
Season the steak with 1/4 teaspoon of the salt and the pepper. Cook for 3 minutes. Turn and move to the sides of the skillet.
Add the onion and cook, stirring occasionally, for 2 minutes. Add the bell pepper, season with the remaining salt, and cook until the vegetables are softened and the steak is medium-rare, 3 to 4 minutes more.
Transfer the onion and bell pepper to a bowl.
Transfer the steak to a cutting board.
Place the tortillas in a microwave and warm on high for 1 1/2 minutes.
Slice the steak and serve with the onion, bell pepper, tortillas, sour cream, salsa, and guacamole.
Serves 4.

Nutrition per serving: Calories 520(35% from fat); Fat 20g (sat 5g); Cholesterol 65mg; Carbohydrate 52g; Sodium 886mg; Protein 32g; Fiber 4g; Sugar 4g
Information
Category

Main Dishes, Beef

Cuisine

Mexican