 Use leftover pizza toppings to make a traditional sausage hero. With its toasty bread, spicy sausages, and soft veggies this classic sandwich is perfect on a warm summer night.
For a vegetarian version, omit the sausages and add crumbly goat cheese. To make a meal, serve the sandwich with a cold beer and a green salad.
To check out the recipe,
.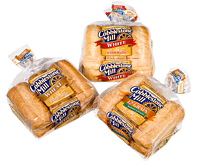 Italian Sausage Heroes with Peppers and Onions
From Food & Wine
Ingredients
1/4 cup plus 1 tablespoon extra-virgin olive oil, plus more for drizzling
2 large onions, thinly sliced
1 teaspoon sweet paprika
1/2 teaspoon sugar
2 large bell peppers (1 red and 1 green), cut into thin strips
1/4 cup water
1 1/2 teaspoons dried oregano, crumbled
Kosher salt and freshly ground pepper
4 sweet or hot Italian sausages
4 hoagie or small submarine sandwich rolls
Directions
In a large skillet, heat 1/4 cup of the olive oil. Add the onions and cook over high heat, stirring frequently, until golden, 10 minutes. Stir in the paprika, sugar and red and green bell peppers. Reduce the heat to moderate and cook, stirring occasionally, until the peppers are softened, about 12 minutes. Stir in the water and oregano. Season with salt and pepper, cover and keep warm.
Meanwhile, heat the remaining 1 tablespoon of olive oil in a medium skillet. Prick the sausages all over, add them to the skillet and cook over moderately high heat, turning frequently, until browned all over, about 5 minutes.
Transfer the sausages to a cutting board and halve lengthwise. Return the halves to the skillet and cook over moderately high heat, turning occasionally, until no trace of pink remains within, about 5 minutes. Transfer to a plate.
Halve each roll (keep it hinged). Pull out some of the bread within. Toast the rolls.
Drizzle the cut sides of the rolls with olive oil and set 2 sausage halves on each roll. Top with the sautéed onions and peppers, close the sandwiches and serve immediately.
Serves 4.
Information
Category

Main Dishes, Sandwiches

Cuisine

North American