Monday's Leftovers: Italian Tuna Melts
Monday's Leftovers: Italian Tuna Melts Using fresh tuna instead of canned takes the classic tuna sandwich to a whole new level. In this jazzed up variation — it makes a great use of leftover tuna steaks — the tuna is mixed with artichoke hearts, sun dried tomatoes, and basil.
Served open faced and topped with lots of melted fontina, this sandwich is hearty and delicious. To take a look at the recipe,
.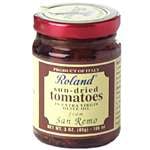 Ingredients
2 garlic cloves, 1 cut in half
1/2 teaspoon coarse salt, plus more for seasoning
1 teaspoon zest plus the juice of 1 lemon
One 14-ounce can quartered artichoke hearts, drained well and patted dry on paper towels
One 12-ounce can water-packed tuna, drained and flaked or 1 cup flaked, cooked fresh tuna
1/4 red onion, finely chopped
2 celery ribs, finely chopped
10 sun-dried tomatoes, thinly sliced
10 fresh basil leaves, thinly sliced (about 1/2 cup)
1/4 cup extra-virgin olive oil
Freshly ground pepper
Four 1-inch-thick slices of crusty bread
1 cup chopped arugula
1/2 pound Italian Fontina cheese, sliced
Directions
Preheat the broiler.
In a large bowl, mash the whole garlic clove with the ½ teaspoon of coarse salt until a paste forms. Add the lemon zest and lemon juice and mix until combined. Add the artichoke hearts, tuna, onion, celery, tomatoes and basil to the bowl and dress with 3 tablespoons of the oil. Mash the tuna salad with a fork and season to taste with salt and pepper.
Place the bread slices on a broiler pan and char on both sides under the broiler. Rub 1 side of each slice with the cut garlic and drizzle with the remaining 1 tablespoon of oil.
Divide the arugula and the tuna salad among the bread slices and top with the cheese. Return to the broiler and melt the cheese until bubbly, 1 to 2 minutes.
Serves 4.
Information
Category

Main Dishes, Sandwiches

Cuisine

Italian