Monday's Leftovers: Miso Chicken With Brown Rice
Monday's Leftovers: Miso Chicken With Brown Rice I was browsing MyRecipes.com trying to figure out what to do with leftover Asian style grilled chicken, when I found this tasty looking recipe. Chicken is coated with a fragrant miso, ginger, and garlic sauce before being tossed with brown rice and fresh vegetables. This recipe is incredibly adaptable so alter it to suit your liking. Green beans, bell peppers, and bean sprouts would be wonderful additions to this delicious rice dish. To look at the recipe,
.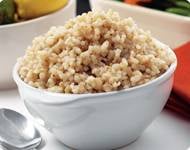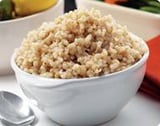 Ingredients
2 tablespoons miso (soybean paste)
1 1/2 tablespoons minced peeled fresh ginger
2 garlic cloves, minced
4 (4-ounce) skinned, boned chicken breast halves
Cooking spray
5 large egg whites, lightly beaten
1 cup finely chopped onion
1 cup thinly sliced carrot
1 tablespoon fish sauce
2 1/2 cups cooked brown rice
1 cup diced shiitake mushroom caps (about 3 ounces)
2 tablespoons chopped fresh parsley
2 tablespoons chopped green onions
1 tablespoon low-sodium soy sauce
1 1/2 cups chopped spinach
Get more recipes at MyRecipes.com
Directions
Combine first 3 ingredients in a small bowl. Rub miso mixture over both sides of chicken breast halves.
Wrap each breast half securely in plastic wrap. Arrange the packets in steamer rack; place rack in a Dutch oven.
Steam packets, covered, 20 minutes or until done. Remove packets from steamer; let stand 5 minutes. Remove chicken from packets, reserving liquid from packets. Dice chicken; set aside. Discard water in pan; wipe pan dry with a paper towel.
Place a large nonstick skillet coated with cooking spray over medium-high heat until hot. Add egg whites, and cook 2 minutes or until done. Remove egg whites from skillet; coarsely chop.
Add reserved cooking liquid, chicken, onion, carrot, and fish sauce to Dutch oven, and bring to a boil. Reduce heat to medium; cook 5 minutes or until liquid almost evaporates. Add rice, mushrooms, parsley, green onions, and soy sauce; cook 3 minutes. Stir in egg whites and spinach.
Serves 4 (serving size: 1 1/2 cups).
Nutritional Information: CALORIES 344(9% from fat); FAT 3.5g (sat 0.7g,mono 0.8g,poly 0.9g); PROTEIN 36.9g; CHOLESTEROL 66mg; CALCIUM 83mg; SODIUM 998mg; FIBER 5.6g; IRON 3.3mg; CARBOHYDRATE 40.5g
Like the recipe above? Try out some of these other ones:
— 10 Chicken Dinners for the Busy Cook
— Dinner Tonight Recipes in 45-Minutes or Less
— Eat Smart at CookingLight.com
— Get More Chinese Recipes
Information
Category

Poultry, Main Dishes

Cuisine

Other Asian