 Leftover rum glazed shrimp pairs well with fresh, juicy flavors. Toss it with pineapple, red onion, jalapeño, lime juice, and mint to make a delicious topping for a crisp tostada. This meal is fast and easy making it ideal for a busy Monday night. For a special treat, serve with chips and salsa!
To look at the recipe please
.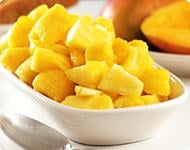 Ingredients
1 pound large shrimp, peeled and deveined
3 slices pineapple, 1 inch thick
3 slices red onion, 1 inch thick
1 jalapeño chile
Vegetable oil, for brushing
2 tablespoons chopped fresh mint
Juice of 1 lime
Salt
4 tostada shells
Directions
Place the shrimp in a large pot of boiling, salted water. Remove the pot from the heat, cover and let stand until the shrimp are opaque and cooked through, about 3 minutes. Drain the shrimp, pat dry and refrigerate.
Preheat a grill pan over medium-high heat. Lightly brush the pineapple slices, onion slices and jalapeño with oil on both sides and cook, turning once, until grill marks appear, about 3 minutes on each side.
Coarsely chop the onion and pineapple. Seed and chop the jalapeño. In a large bowl, toss the onion, pineapple and jalapeño with the mint and lime juice; season to taste with salt.
Add the reserved shrimp and toss.
To serve, spoon the shrimp salad onto the tostada shells.
Serves 4.
Information
Category

Main Dishes, Shellfish

Cuisine

Mexican