Monday's Leftovers: Pork Tenderloin with Ancho Chile Sauce
Monday's Leftovers: Pork Tenderloin with Ancho Chile Sauce If you're into bold meals, then this recipe won't bore you. The anchos, paprika, cumin, and coriander will bring earthy, spicy flavors into the mix. The coconut milk-based sauce mellows the heat.
If you can't locate anchos, which are dried poblano peppers, you can substitute ancho chile powder (not to be confused with chili powder, which is a mix of different spices). To enjoy this succulent pork,
.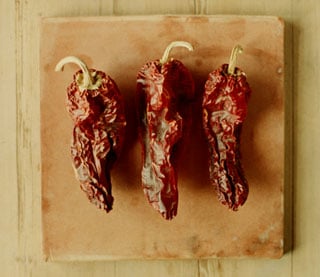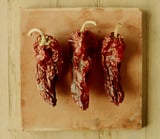 Ingredients
3 dried ancho chiles, stemmed and seeded
1 tablespoon plus 1/2 teaspoon ground cumin
1 tablespoon smoked paprika
Salt and pepper
2 1-pound pork tenderloins, trimmed, patted dry, and halved crosswise
6 tablespoons vegetable oil
1 cup unsweetened coconut milk
1/2 cup creamy peanut butter
1/2 cup vegetable broth or water
3 tablespoons fresh lime juice
1/2 teaspoon ground coriander
Directions
Preheat the oven to 450°. Soak the ancho chiles in warm water for 5 minutes; drain and set aside.
In a dish, combine 1 tablespoon cumin, the paprika, 1 tablespoon pepper and 2 teaspoons salt. Brush the tenderloins with 3 tablespoons oil and roll in the spice mixture until coated.
In a large ovenproof skillet, heat the remaining 3 tablespoons oil over medium-high heat until hot. Sear the pork, turning with tongs, until browned all over. Transfer the skillet to the oven and roast until an instant-read thermometer inserted in the thickest part registers 150°, 10 to 12 minutes.
Meanwhile, place the reserved chiles in a blender and add the coconut milk, peanut butter, broth, lime juice, 2 teaspoons salt, the coriander, the remaining 1/2 teaspoon cumin and 1/2 teaspoon pepper. Blend until the sauce is smooth.
Remove the skillet from the oven, transfer the pork to a cutting board and let rest for 5 minutes. Slice into 1/2-inch-thick medallions and arrange on a serving platter. Drizzle with the ancho-peanut sauce.
Serves 4.
Information
Category

Main Dishes, Pork

Cuisine

Other