 Still trying to do good after weeks of holiday indulgence? This salad is light in every respect except taste. Its exotic flavors will be like a resort vacation for your palate — a welcome break from the hearty soups and stews of the season.
While tropical fruits may seem out of place in a Winter salad, mangoes are often shipped from countries like Brazil, where it's Summer and peak growing season. Serve the salad alongside plantain chips and pomegranate-mango guacamole for pure paradise.
For a stunningly simple meal,
.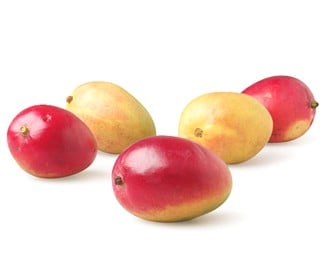 Ingredients
3 tablespoons distilled white vinegar
3 tablespoons sugar
6 tablespoons Dijon mustard
6 tablespoons mayonnaise
4 large pickling cucumbers, peeled, cut into 1/2-inch cubes (about 2 cups)
1 large mango, peeled, pitted, cut into 1/2-inch cubes (about 1 1/2 cups)
1 pound cooked medium shrimp
3 tablespoons chopped fresh dill
Hot pepper sauce
12 Bibb lettuce leaves
Directions
Mix vinegar and sugar in small bowl until sugar dissolves. Whisk in mustard and mayonnaise. Cover and chill. (Can be made 1 day ahead. Keep chilled.)
Combine cucumbers, mango, shrimp, and dill in large bowl.
Pour dressing over; toss to coat. Season with salt and hot pepper sauce. Arrange 2 lettuce leaves on each of 6 plates. Top with shrimp salad.
Serves 6.
Information
Category

Salads, Seafood

Cuisine

North American