 Giving leftovers a whole new taste — with seasonings from another culture — is a great way to make last night's meal more appetizing. For example, turn leftover African inspired harissa crusted tri-tip into a Thai-style steak salad.
The sliced steak is tossed with a lime soy oil. Then, the steak is mixed with shaved carrots, romaine lettuce, and fresh mint for a scrumptious and filling salad. To take a look at the recipe,
.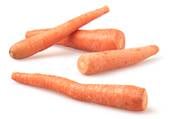 Ingredients
1/4 cup freshly squeezed lime juice
1 tablespoon soy sauce
1 tablespoon sugar
1/4 to 1/2 teaspoon red-pepper flakes
3 tablespoons vegetable oil
2 boneless rib-eye steaks (each 8 ounces and 3/4 inch thick)
Coarse salt and ground pepper
1/2 pound carrots (3 to 4 medium)
1 medium head romaine lettuce, cut crosswise into 1-inch ribbons
1/2 cup fresh mint leaves
1 cup fresh bean sprouts (optional)
1/3 cup salted peanuts, chopped (optional)
Directions
Make marinade: in a medium bowl or liquid measuring cup, whisk together lime juice, soy sauce, sugar, red-pepper flakes, and oil.
Season steaks generously with salt and pepper; place in a baking dish. Pour 1/4 of marinade over steaks (reserve remaining marinade); turn steaks to coat. Let steaks marinate up to 30 minutes.
In a large skillet, cook steaks on medium-high heat, turning once, 2 to 3 minutes per side for medium-rare.
Transfer to a cutting board; tent loosely with aluminum foil, and let rest, 5 to 10 minutes. Slice steaks across the grain into 1/4-inch-thick slices; halve slices crosswise.
Transfer to a large bowl, and toss with reserved marinade.
With a vegetable peeler, cut carrots into long ribbons. Add to steak in bowl, along with lettuce and mint; toss to combine.
Divide salad among four shallow bowls. Sprinkle with bean sprouts and peanuts, if desired.
Serves 4.
Information
Category

Salads, Main Dishes

Cuisine

Other Asian