Monday's Leftovers: Tuna with Mustard Seed Crust
Monday's Leftovers: Tuna with Mustard Seed Crust Before my first attempt to make seared tuna, I was daunted by its sophistication. It wasn't until after that I realized the dish is deceptively foolproof — unlike chicken, you don't have to worry about whether it's cooked through!
Since the outside is seared quickly at high heat and the center of the steak is rare, the fish takes no time to cook. If you prefer more well done tuna, simply increase the cooking time. When searing the tuna in batches, be sure to add another 1 1/2 tablespoons oil for the second round of tuna.
To get the recipe,
.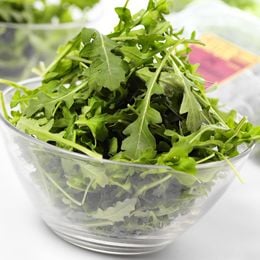 Ingredients
2 one-pound sushi-quality tuna steaks, 1 1/2 inches thick
1/2 cup yellow mustard seeds
1 teaspoon coarse salt
1/2 teaspoon freshly ground pepper
3 tablespoons extra-virgin olive oil, plus more as needed for cooking
1 small bunch arugula, washed
2 lemons, halved
Directions
Using a sharp knife, slice each tuna steak into two long pieces that are about 1 1/2 inches wide. Grind mustard seeds to a coarse powder in a spice grinder or mortar and pestle. Combine ground seeds with salt and pepper, and spread mixture out on a plate.
Dredge each piece of tuna in the ground mustard mixture, gently pressing the seeds against the tuna so that they adhere.
Place a large skillet over medium heat. Let stand until the skillet feels hot when you place your palm just above it, about 1 minute. Add 1 1/2 tablespoons olive oil to skillet. Heat oil until it is hot but not smoking, about 1 minute more.
Carefully arrange pieces of tuna in the skillet about 1 inch apart. Sear tuna about 1 minute, until it releases easily from skillet and the seeds are deep golden brown. Continue process until the long sides are seared.
Using a sharp knife, slice the tuna into squares. Arrange on plates with a handful of arugula and half a lemon. Divide remaining 1 1/2 tablespoons olive oil among four plates, drizzling it on arugula. Serve immediately.
Serves 4.
Information
Category

Main Dishes, Fish

Cuisine

North American