Morel Pasta Recipe
Perfectly Seasonal: Pasta With Morel Pesto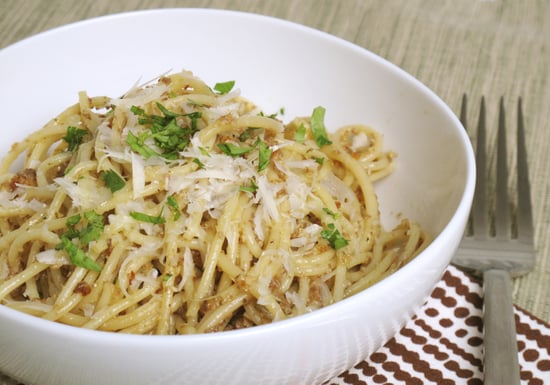 For mushroom lovers, it'd be sacrilege not to seize the moment during the short window of time that morels are in season; they have a uniquely nutty, earthy quality that simply can't be resisted. Unfortunately, the cost of morel magnificence certainly doesn't come cheap: more often than not, these babies go for upwards of $40 per pound!
Yet I've discovered ways to work in little bits of this luxury item into my everyday meals. This pasta, which is coated in a pesto of morels, shallots, and pine nuts, is the perfect way to stretch a small amount of the delicacy while getting a good amount of their flavor, and the tab is a manageable $5 to $10 a person. Want to savor morel mushrooms on a budget, too? Here's one way to do it.
Notes
If you can't locate fresh morels, you can use dried ones: place them in a bowl and cover with boiling water. Let soften for 30 minutes, rinse, and pat dry before chopping.
Ingredients
1/4 pound morel mushrooms (or 1/2 ounce dried morels), cleaned and roughly chopped
1/2 pound high-quality bucatini or spaghetti
1/4 cup panko-style breadcrumbs
2 small shallots, chopped
1 large clove garlic, crushed
1 teaspoon chopped fresh thyme
1/4 cup toasted pine nuts
Salt
Freshly ground pepper
1/2 stick (4 tablespoons) unsalted butter
2 tablespoons extra-virgin olive oil, plus more for serving
Finely chopped parsley, for serving
1/2 cup freshly grated Parmesan cheese, plus more for serving
Directions
Bring a large pot of salted water to a boil for the pasta.
Heat a large skillet over medium heat. Add the breadcrumbs to the dry pan and cook, tossing occasionally, until the breadcrumbs are toasted. Transfer to a plate and set aside.
Meanwhile, make the pesto: Whirl the shallots, garlic, and thyme in a food processor until very finely chopped. Add the pine nuts, morels, and salt and pepper to taste, and pulse until the mushrooms are finely chopped but not pasty.
When you start cooking the pasta, melt the butter over medium heat in the big skillet. Add the pesto, and cook and stir for 5 minutes, until the shallots are soft. Add the olive oil, stir to blend, and keep warm on low heat until the pasta is cooked al dente. Toss the pasta with the pesto. Fold in the cheese and breadcrumbs, and serve hot.
Garnish with a drizzle of olive oil, chopped parsley, and more Parmesan cheese, if desired.
Information
Category

Pasta, Main Dishes

Cuisine

North American

Yield

Serves 2 to 4.