Moroccan Chickpea and Spinach Salad
Meet My New Favorite Spinach Salad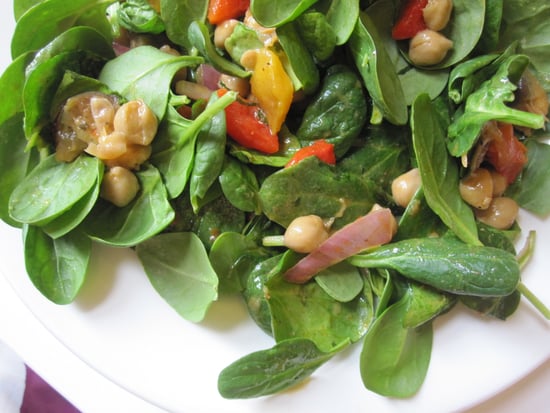 During the work week, I try to eat a veggie-packed salad for lunch everyday. Yesterday's was so delicious, I snapped a photo and decided to share the recipe with you. It's a spinach salad with roasted red peppers, garbanzo beans, and sautéed eggplant.
The thing that makes it especially flavorful is the vinaigrette — it's a mixture of sherry vinegar, Dijon mustard, and smoky harissa. Although you may have to hunt down the harissa (or you could make your own), this salad is worth it.
Since I like to have something crunchy at all my meals, I enjoyed a handful of toasted almonds on the side. For a more substantial meal like dinner, offer the salad with chicken or fish. Ready for the recipe? Read more.
Ingredients
Vinaigrette
1 tablespoon sherry vinegar
1/2 tablespoon Dijon mustard
1/4 teaspoon kosher salt
1/4 teaspoon freshly ground black pepper
2 to 4 tsp. harissa*
3 tablespoons extra-virgin olive oil
Salad
1 medium red bell pepper
1 medium yellow bell pepper
2 tablespoons olive oil
1 medium eggplant, cut into 1/2-in. cubes
1 can (15 oz). chickpeas (garbanzos), rinsed and drained
About 3/4 tsp. kosher salt
About 3/4 tsp. freshly ground black pepper
1 bag (6 oz.) baby spinach
12 large fresh mint leaves, stacked and cut crosswise into thin ribbons
1/3 cup minced red onion, rinsed and drained
Directions
Preheat broiler.
Make vinaigrette: Whisk vinegar, mustard, salt, pepper, and 2 tsp. harissa in a bowl. Gradually whisk in olive oil. Taste; add more harissa if you'd like a hotter dressing. Set aside.
Make salad: Put peppers on a baking sheet and broil, turning periodically, until charred on all sides, about 20 minutes. Alternately, place the peppers directly on a gas grill and cook until they are black on all sides. Place peppers in a paper bag about 15 minutes to allow trapped steam to loosen their skins. Remove charred skins, stems, and seeds; cut peppers into 1/2-in. pieces.
Meanwhile, heat olive oil in a large nonstick frying pan over medium heat. Add eggplant and cook, stirring often, until softened and beginning to color, about 12 minutes.
Add chickpeas, 2 tbsp. water, and 3/4 tsp. each salt and pepper; cook, stirring, to blend flavors, about 3 minutes. Stir in chopped peppers. Remove from heat and let stand until vegetables are warm but not hot.
In a large bowl, toss spinach, mint, and red onion with half the vinaigrette. Add chickpea mixture, drizzle with additional dressing, and toss again to coat. Season to taste with more salt and pepper.
Serves 6.

*Buy harissa, a north African chile-and-spice paste, in the international section of many supermarkets. Heat level varies greatly from brand to brand, so try a little before using.
Information
Category

Vegetables, Salads

Cuisine

African