Muffuletta Recipe Inspired by New Orleans's Napoleon House
'Wich of the Week: Hot Muffuletta
Mardi Gras puts me in the mood for muffulettas, but this year I wanted to move beyond the classic recipe for the New Orleans cold-cut monstrosity. Invented by Sicilian immigrants in the French Quarter around 1906 — the Central Grocery lays claim to the original — a muffuletta actually tastes better after a few hours. Served at room temperature, the signature olive salad soaks the roll, making the salami, ham, mortadella, and cheese deliciously moist and creamy. The last time I went to New Orleans, a friend of mine told me that she thinks the Napoleon House serves even better muffulettas than Central Grocery, so of course I had to try the sandwich at this cafe/bar founded in 1917. To hear all about it and get my re-created recipe,
. The Napoleon House's version is served hot, and the topic of warm vs. cold muffulettas can lead to very heated debates around the Crescent City. In my mind, the two sandwiches offer entirely different experiences. A heated muffuletta doesn't improve with age, but it does deliver the greasy goodness of a hot pastrami sandwich with melted cheese. The Napoleon House, in fact, replaces the mortadella with pastrami, alongside salami and Italian ham. Its olive salad was greener than what I've had in the past — and by green I mean it had lots of green olives and capers, plus chickpeas. The sandwich was delicious, but I think I still prefer my muffulettas cold; the heat made the olive salad too runny and messy. But if you love toasty-warm sandwiches, this twist is definitely worth trying. Muffulettas are typically served on special sesame-seeded buns about 10 inches in diameter, but if you can't find muffuletta bread (which you probably can't outside Louisiana), seeded Kaiser rolls work just fine. This sandwich is best served with a side of potato chips, since your belly won't be able to accommodate much more. Here's how to make it.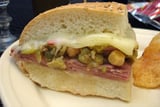 Ingredients
For the olive salad (makes enough for 6 to 8 sandwiches):
1 cup pimiento-stuffed olives, coarsely chopped
1 cup canned garbanzo beans (chickpeas), drained, rinsed, and coarsely chopped
1/4 cup diced carrot
1/8 cup capers
2 gloves garlic, minced
1/2 cup celery, finely chopped
2 tablespoon dried parsley
1 tablespoon dried oregano
1 teaspoon pepper
1/4 cup extra-virgin olive oil
2 tablespoons white-wine vinegar
2 tablespoons lemon juice
For the sandwich:
2 slices pastrami
2 slices ham
4 slices Genoa salami
3 slices provolone cheese
1/4 to 1/2 cup olive salad (depending on size of roll)
One muffuletta loaf or seeded kaiser roll
Directions
Preferably one day in advance, make the olive salad. Combine all 12 ingredients in a bowl and mix well. Store overnight in a tightly sealed container.
Preheat oven to 350°F.
Slice the seeded rolls in half, hamburger-bun style. On the bottom slice, brush a thin layer of olive oil.
Atop that base of bread, stack the ham, salami, and pastrami. Top with a layer of olive salad about 1-inch thick.
Lay the cheese slices over the olive salad and cover with top half of bun.
Place the entire sandwich in the oven for approximately 5 minutes, until bread is slightly toasted and cheese is melted.
Slice in half and serve.
Makes one sandwich.
Information
Category

Main Dishes, Sandwiches

Cuisine

Cajun/Creole