Mushroom, Seitan, and Polenta Vegetarian Lasagna Recipe
Fast & Easy Dinner: Polenta Lasagne With Seitan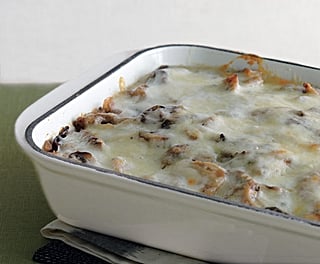 I love recipes like this lasagna that are fresh new takes on comforting classics. Traditionally lasagna is made with noodles and meat sauce, but this modern variation uses polenta and a mushroom seitan sauce. The update saves time because you don't have to fuss with boiling pasta. It also is meat-free and vegetarian-friendly. Don't be intimidated by the cheese sauce; it's a straightforward béchamel that's simple to put together.
For the recipe to this hearty casserole, please
.
Polenta Lasagne With Seitan
From Gourmet
Ingredients
For cheese sauce:
1/2 stick unsalted butter
3 tablespoons all-purpose flour
2 1/2 cups whole milk
1/4 pound Italian fontina, coarsely grated (about 1 cup)
3 ounces gruyère, coarsely grated (about 1 cup), divided
Scant 1/2 teaspoon grated nutmeg
For mushroom-seitan filling:
3 garlic cloves, thinly sliced
3 tablespoons olive oil
10 ounces cremini mushrooms, thinly sliced
8 ounces seitan (patted dry and thinly sliced)
1/2 teaspoon thyme leaves
3 tablespoons water
2 (16-to 18-ounce) logs ready-made plain polenta
Directions
Preheat oven to 425°F with rack in upper third. Lightly butter a 2- to 2 1/2-quart shallow baking dish.
Make cheese sauce: Melt butter in a 2- to 3-quart heavy saucepan over medium heat. Whisk in flour until smooth, then cook roux, whisking frequently, until pale golden, 2 to 3 minutes.
Meanwhile, heat milk in a separate small saucepan until just about to boil. Add milk to roux in 2 batches, whisking constantly until very smooth.
Bring to a boil, whisking, then cook, whisking, 30 seconds. Remove from heat and whisk in fontina, half of gruyère, nutmeg, and 3/4 teaspoon salt. Cover and set aside, whisking occasionally.
Make mushroom-seitan filling: Cook garlic in oil in a 12-inch heavy skillet over medium-high heat, stirring, until beginning to turn pale golden. Stir in mushrooms, 1/2 teaspoon salt, and 1/4 teaspoon pepper and cook, stirring occasionally, until mushrooms are softened, about 3 minutes. Add seitan and thyme and cook, stirring occasionally, until mushrooms and seitan are slightly golden, about 4 minutes. Add water and cook briefly, scraping up any brown bits.
Assemble and bake lasagne: Spread 1/2 cup cheese sauce in bottom of baking dish.
Slice 1 log of polenta into 1/4-inch-thick rounds and arrange enough rounds to cover bottom of dish, overlapping slightly. Spoon half of filling evenly over polenta, then spread with half of remaining cheese sauce (about 1 cup). Slice enough rounds from second log to form a second layer. Cover with remaining filling, then cheese sauce. Sprinkle with remaining gruyère and bake until top is just bubbling and slightly browned, 15 to 20 minutes. Let stand 5 minutes before serving.
Serves 4-6.
Information
Category

Other, Main Dishes

Cuisine

Italian