Mushroom Tips From Chef Matt Bolton at the 2010 Chefs' Holidays at The Ahwahnee Hotel in Yosemite
Sage Mushroom Advice From Chef Matt Bolton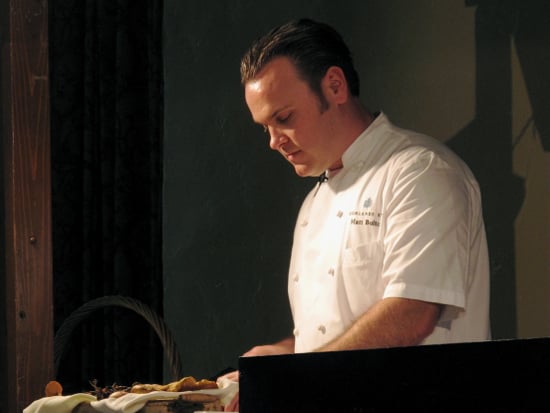 Last week, I took a trip to Yosemite National Park for the kickoff session of The Ahwahnee's annual Chefs' Holidays. The event ended with a big blowout dinner, but I walked away with tons of tips. Chef Matt Bolton, who runs the kitchen at Pacific's Edge restaurant in Carmel's Highlands Inn, showed the audience how to confit a duck leg to make pâté-like rillette.
But I was most impressed with his other dish, tiny cubes of butternut squash slow-cooked in the style of risotto, and topped with foraged mushrooms. While preparing his dishes, Bolton offered a number of suggestions for cleaning, storing, and cooking with fungi. See them when you read on.


Mushroom varieties vary in cooking times; more delicate mushrooms will cook in less time than meatier types.
To clean mushrooms, use a damp towel to wipe dirt off the caps. Trim the stems, then scrape them gently with a knife.
When storing fresh mushrooms, Chef Matt recommends laying them on a parchment-covered sheet pan in the fridge. Don't wrap them tightly; they'll shrink and suffocate.
Cut mushrooms into large sections, so they won't shrivel and become too small once cooked.
Rehydrate dried mushrooms by adding them to boiling water, then turning off the heat and allowing them to sit for 20 minutes. Pat dry before using.
Reserve the dried mushroom liquid. Simmer it with white wine, shallots, and thyme for a flavorful vegetable stock.
Make the most of each mushroom's properties. For instance, cooked candy cap mushrooms (which have a strong maple syrup aroma) would taste great applied to ice cream.