Natalie Coughlin Interview About Food
Natalie Coughlin: An Olympian Who Loves Food as Much as We Do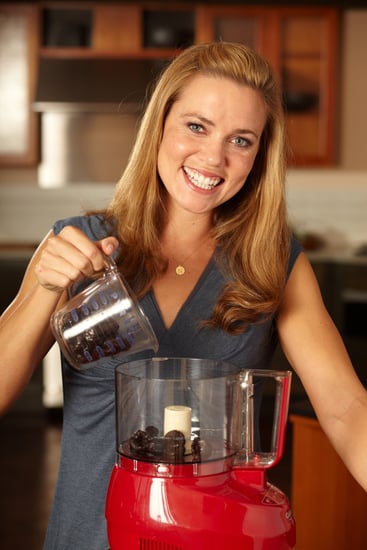 What do backyard chickens and 12 Olympic medals have in common? Natalie Coughlin, that's what. The gold medalist and world champion, who nabbed her latest medal during a relay on Saturday, may currently be occupied swimming for the USA in London, but back at home, she's cultivating a healthy interest in all things food-related. From growing vegetables in her own backyard in Lafayette, CA, to her highly effective method of kitchen organization, Natalie gives us the scoop on her experiences with food.
YumSugar: You raise chickens in your backyard and you consider yourself an urban farmer. What do you grow or produce yourself that you're most proud of?

Natalie Coughlin: The eggs are pretty easy. It's amazing how much food is produced by these little creatures. I just have to give them kitchen scraps, fruits and vegetables, and chicken feed, and they give us a ton of fresh eggs every day, which is pretty incredible. And then the fresh herbs and kale are kind of my mainstays. They grow very, very easily and I get tons of them from the yard.
YS: If you weren't in swimming, do you think you'd have a career in the food world?
Find out her answer and much more when you keep reading.
NC: I really have no idea. I mean, I love cooking for people; I love entertaining; I love growing my own food. Turning that into a career? I'm not sure how I would do that, if that would be possible. I would love it but right now it's just a hobby and something that I'm passionate about.
YS: What is your all-time favorite recipe to cook?
NC: It's impossible to pick an all-time favorite recipe. But one of the recipes I'm really proud of is my Vietnamese-style banh mi. It uses dried plum puree in the meatball mixture, which adds a ton of nutrients as well as sweetness and moisture, and that contrasted with the spicy sriracha mayonnaise, with all of the fresh vegetables, is incredible.
YS: You're working with the California Dried Plum Board. Why do you think dried plums get such a bad rap?
NC: I think it was 20 or 30 years ago it had that connotation with digestive health and with older people. I never experienced them that way because I ate them since I was a kid. My babysitter would give them to me and I thought they were so delicious. Even our assistant coach — she and I used to room together at meets and that was the first thing we'd buy for our refrigerator to stock up on at meets. So it was so funny when I got in contact with the plum board and it was something that I'd always eaten throughout my career.
YS: How else do you like to enjoy them?
NC: I just snack with them mostly. I do enjoy cooking with them quite a bit. I like adding sweetness to savory dishes. I like balancing the flavors that way, but I just keep them with me in my gym bags. I keep them in the glove compartment of my car. They're just really good portable snacks, especially when I'm traveling.
YS: What are your favorite warm-weather fruits and vegetables, and what do you do with them?
NC: I love fava beans. I really like making a hummus with fava beans, and that's actually one of the things I grow in my garden. I love eating the leaves and the beans. Radishes — I love just having a really good baguette with good, high-quality butter (just a tiny bit of butter) and fresh sliced radishes with salt on top. That's just a nice snack. That creaminess of the butter and the sharpness of the radishes is just delicious, and then I use the radish leaves as well.
YS: How do you use those?
NC: I just clean them really well and then almost do a chiffonade and sprinkle them on top of that open face baguette with the radish. It's just a good way to use the greens. They have that nice pungent radish flavor.
YS: We're currently in the process of overhauling the kitchen. How do you keep your cooking space organized?
NC: I am a big proponent of the label maker and using labels. My husband thinks I'm insane sometimes. When everything has its place, there's no reason for it to be out of place. Fortunately, last year it was my big project to get my pantry in order, and I bought a ton of shelves and made sure that everything had a place, and I've just stuck with that ever since the crazy weekend that I spent reorganizing everything. It really has made life simple; everything has a place and it makes cooking so much more enjoyable.
YS: Have you had a recent breakthrough in the kitchen?
NC: Yes! Pizza! Last week, I visited the Edible Schoolyard and I busted out all my old cookbooks from Alice Waters and I've just been cooking my way through them, and I realized how easy it is to make your own dough and to make it really good and really fresh. It is such a good palate for so many different flavors, and when you have a good pizza dough recipe, you can pull in things from the garden. And actually, I have a great pizza recipe with dried plums on top. It's a good appetizer.
YS: Professional swimming takes you around the world. What country's cuisine do you enjoy the most?
NC: Three countries come to mind: Greece had the freshest food and the vegetables and the dairy, everything was so simple but impeccable and delicious. Italy — I never had a bad meal there. Everyone claims to have the best olive oil, the best pasta, the best this and that. And Italians are so passionate about their food, and with good reason because they know their cuisine. And then Australia I really liked because, much like the US, they're such a melting pot of different cultures.
YS: I've heard that you keep a mostly vegetarian diet while you're training. Is that true?
NC: Yeah, that is true. If I do eat meat, it's at night, and it's a pretty small portion. I love meat, but I think it's much healthier to eat vegetarian most of the time and eat it when it's really delicious or in a smaller portion. That being said, one of my biggest guilty pleasures is a bratwurst at the ball game. It's not like I'm super, super granola and I never touch meat. I just use it sparingly.
YS: What is the first meal you're going to want to have when you're done with the Olympics?
NC: Hmm. The first meal? Probably, going along with my guilty pleasure, bangers and mash! It's gonna be in London and that's one of their national dishes, so I'm gonna have to go to a great place to get bangers and mash.
Curious to know about other Olympian foodies? See what the USA team loves to eat both on and off the clock.
Photo courtesy of the California Dried Plum Board