Nathan Myhrvold's Modernist Cooking Techniques
Experiment With 10 Modernist Techniques at Home
At last weekend's New York City Wine & Food Festival, The New York Times hosted a TimesTalk with Nathan Myhrvold, author of the groundbreaking Modernist Cuisine and a new book, Modernist Cuisine at Home ($130).
In Myhrvold's original Modernist Cuisine, his high-tech methods involve centrifuges, sous-vide baths, and other seemingly space-age kitchen equipment, but this weekend, the kitchen scientist spent a great deal of time convincing the audience that his new cookbook is indeed intended for at-home cooking, using easily-attainable kitchen tools.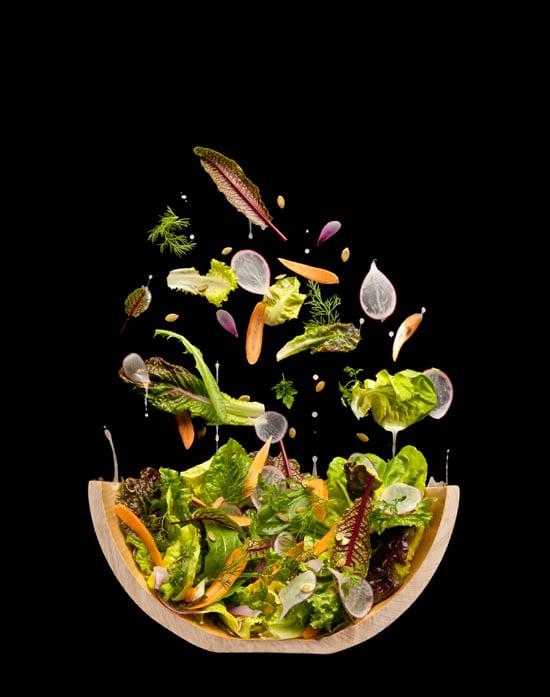 His concept? Using everyday appliances in newfangled ideas, like hyper-decanting wine with an immersion blender. Whether you love the modernist concepts or are a complete skeptic, Myhrvold mentioned 10 modernist techniques that seem counterintuitive but are tried and tested to achieve perfection in the kitchen. "The laws of physics and chemistry are involved in cooking, and so shouldn't we know what they are?" he reminds us.
See 10 of Myhrvold's at-home modernist techniques.
Salt a finished dish with coarse salt to get more salty flavor. Your taste buds pick up salty flavor better if salt is concentrated atop a finished dish rather than distributing it in the food as it's cooking.
Use a syringe to insert brine liquid into a chicken. Instead of soaking the whole chicken in a brine, this method seasons the chicken meat without dampening the skin, so the skin will crisp up when baked.
Dress your salads by hand, rubbing the dressing on each leaf to evenly distribute it. This helps you cut down on the total amount of dressing used while amping up the flavor of the overall salad.
Turn a charcoal grill into a smoker. Place a mix of coals and wood chips on one side of the grill and a bowl of ice on the other side to create a low-heat, smoking effect.
Hyper-decant young red wine in a blender. Blend a bottle of wine with an immersion blender for 30 seconds to drastically improve its flavors.
Use a blow torch to sear meats. It gives you greater control of the caramelization — plus you can get the sides of the meat, too.
Make a vegan gelato. Myhrvold swears by his recipe for vegan pistachio gelato, which contains no dairy or eggs to diminish the pistachio flavor. Instead, he uses pistachio butter, pistachio oil, and xanthan gum, churned in an ice cream maker to produce an intensely flavored gelato without any cream.
Add sodium citrate to cheese. This "sour salt" helps cheese melt perfectly and prevents the oils and proteins from separating when heated; think Velveeta-smooth macaroni and cheese.
Cooking sous vide prevents flavors from escaping out of the food. "If your kitchen smells good, your food has lost something," Myhrvold told the audience. By cooking sous vide, you're retaining the flavors in the bag rather than letting volatile flavor compounds escape into the air.
Sous vide can be done at home without the fancy equipment. Seal the food in a plastic bag or canning jar and place it in a large bowl, then run warm tap water continuously over the submerged bag of food to maintain a warm (not hot) temperature.