It's National Peanut Butter and Jelly Day! Celebrate With a Waffle 'Wich
It's National Peanut Butter and Jelly Day! Celebrate With a Waffle 'Wich
Happy National Peanut Butter and Jelly Day! In honor of the holiday, I'm sharing a contemporary update on what happens to be one of my favorite nostalgic foods.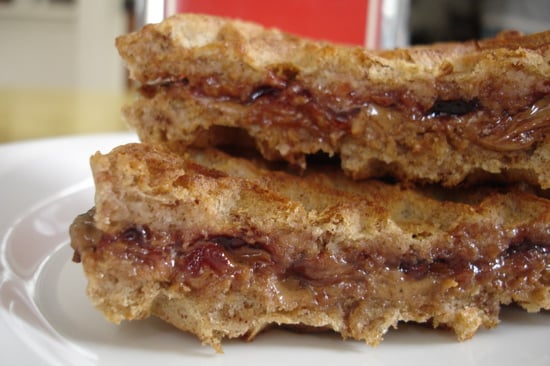 I've said before that some of the best sandwiches evoke memories, and this recipe goes back when I was maybe 7 or 8, and my mom fixed me some waffles before realizing we were out of syrup. She improvised to make this sandwich, and "peanut butter and jelly waffles" soon became one of my favorite meals. Like the nonwaffly version, this PB&J is very easy to make and can inspire countless variations: almond instead of peanut butter, different flavors of waffles or even waffles from scratch, honey in place of jelly, Elvis-style with bananas, and on and on.
This time I used Eggo cinnamon waffles, which I highly recommend. The only requirement for this breakfast or lunch sandwich — and what sets it apart from a traditional PB&J — is using hot, toasted waffles, which melt the peanut butter in just the right warm and comfy way. To see my recipe, keep reading.
Peanut Butter and Jelly Waffle 'Wich
From Nancy Einhart, YumSugar
Ingredients
2 frozen waffles, plain or flavored
2 tablespoons creamy peanut butter
2 tablespoons jelly of your choice
Directions
Toast waffles in toaster on high, until they are medium brown.
On one waffle, spread the peanut butter, making sure to fill in the square indentations. On the other waffle, spread the jelly.
Place the peanut butter and jelly sides together, cut in half, and serve immediately.
Makes 1 sandwich.
Information
Category

Other, Breakfast/Brunch

Cuisine

North American