New Breakfast Menu Served at Subway
Subway Hopes to Wake Up Breakfast Sales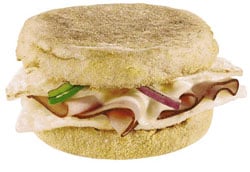 Yet another chain is vying for a piece of the pie in the ongoing fast food breakfast wars. Next month, Subway will roll out a breakfast menu, with a focus on low-fat egg and cheese sandwiches.
Options will include a Western egg and cheese; black forest ham, egg, and cheese; double bacon, egg, and cheese; and steak, egg, and cheese, all made with cage-free eggs.
Patrons will be able to customize whether they want egg whites or regular eggs, light whole-wheat English muffins, flatbread, or the chain's signature hoagie bread; and condiments or vegetables available in all other Subway sandwiches.
The breakfast offerings, which are priced from $1.75 for a basic English muffin melt to $6 for a foot-long breakfast sandwich, seem to reflect a trend toward personalized morning food and drinks. Do the new Subway breakfast items seem like something you'd order?