New Dunkin' Donuts Sandwiches
Dunkin' Donuts Is Banking on All-Day Sandwiches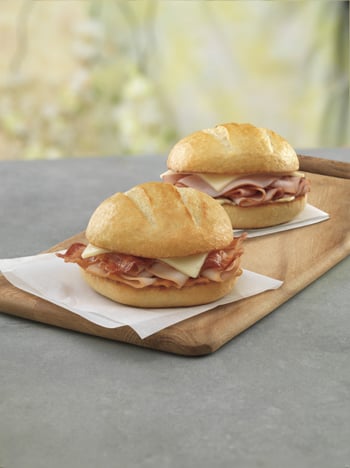 Looks like Starbucks and McDonald's aren't the only two chains who want a piece of breakfast between bread: starting this week, Dunkin' Donuts introduces two new sandwich offerings, to be offered at DD locations throughout the day — including breakfast, of course.
The new sandwiches will "be familiar, but with a twist," said Stan Frankenthaler, Dunkin' Brands' executive chef and head of product innovation. The Ham & Cheese Bakery Sandwich contains Black Forest ham, white cheddar, and a creamy dijon mustard sauce; Turkey, Cheddar, & Bacon is made with turkey, white cheddar, bacon, and ancho chipotle sauce. Both are made to order on a croissant, bagel, or the new baked-fresh-daily French roll.
The announcement of these all-day sandwiches arrives just as Taco Bell rolls out its First Meal menu of breakfast items. Still, Dunkin' is quick to explain what differentiates the brand's ham and bacon sandwiches from similar breakfast sandwich offerings already on the market. "We think our bakery leadership is a real differentiator in our brand," Frankenthaler told us. "Our guests already know us and love us for our fresh bagels (we're the number one retailer of bagels in the United States) and croissants."
Providing all-day options is "extremely important for Dunkin' Donuts," he added. "Breakfast sandwiches are popular with our guests, and they like the flexibility to enjoy them throughout the day."
With first Taco Bell and now Dunkin' Donuts taking the mornings to another level, it's clear that the fast-food AM wars won't be letting up anytime soon. Will you try a new sandwich from Dunkin' Donuts?