 For respite from the harshest Winter days, turn to the simple yet satiating Northeastern staple known as clam chowder. Not only will this soup provide you with warmth in the most bone-chilling weather, but its shellfish base will remind you that balmy Summer days at the beach aren't but several months away. This balanced, nutritious, one-pot meal can be made with shortcuts like bottled clam juice; or, for an extra-special soup, make the seafood base from scratch. To make either version of this New England classic,
.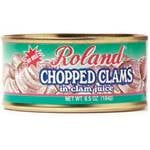 Ingredients
1 1/4 pound canned clams, minced, juices reserved
2-3 cups bottled clam juice
2 bacon slices, minced
1 onion, diced
2 tablespoons all-purpose flour
1 bay leaf
1/2 teaspoon thyme leaves, chopped
1 pound potatoes, peeled, diced
3 cups heavy cream or half and half
6 tablespoons dry sherry, or to taste
Salt, to taste
Freshly ground black pepper, to taste
Tabasco sauce, to taste
Worcestershire sauce, to taste
Oyster or saltine crackers, as needed
Directions
Drain the clam juice from the minced clams and combine with enough bottled juice to equal 3 cups of liquid.
Cook the bacon slowly in a soup pot over medium heat until lightly crisp, about 8 minutes.
Add the onion and cook, stirring occasionally, until the onion is translucent, about 5-7 minutes. Add the flour and cook over low heat, stirring with a wooden spoon, for 2-3 minutes.
Whisk in the clam juice, bring to a simmer, and cook for 5 minutes, stirring occasionally. The liquid should be the consistency of heavy cream. If it is too thick, add more clam juice to adjust the consistency. Add the bay leaf and fresh thyme.
Add the potatoes and simmer until tender, about 15 minutes.
Meanwhile, place the clams and cream in saucepan and simmer together until the clams are cooked, about 5-8 minutes.
When the potatoes are tender, add the clams and cream to the soup base. Simmer for 1-2 minutes.
Stir in the sherry. Season to taste with salt, pepper, Tabasco, and Worcestershire sauce. Serve in bowls with the crackers on the side.
Makes 8 cups.
Information
Category

Soups/Stews, Chowder

Cuisine

North American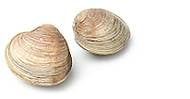 Expert New England Clam Chowder
Ingredients
5 dozen littleneck clams (quahogs), scrubbed
3 cups water
1 ounce salt pork, rinsed well and cut into lardons
1 tablespoon unsalted butter (optional)
1/2 large yellow onion, cut into small dice (1 cup)
1 large russet potato, peeled and cut into 1/2-inch dice (2 cups)
Coarse salt and freshly ground black pepper
1 sprig thyme
1 dried bay leaf
1/2 cup heavy cream
Directions
Cook clams and make broth: Combine clams and water in a medium stockpot, and then cover and bring to a boil. Cook until clams have opened, 5 to 6 minutes (discard any that remain closed). Use a slotted spoon to remove clams. Strain the broth through a fine sieve lined with a coffee filter; you should have about 4 cups (if not, add a little water). When clams are cool enough to handle, remove the meat from the shells and coarsely chop. Discard shells.
Build the flavor base: Rinse the pot and dry completely. Cook the salt pork over medium heat until some of the fat has rendered and the remaining meat is light golden, about 3 minutes. (If there is not enough fat to coat the bottom of the pot, add the butter). Add the onion and cook until translucent, about 3 minutes, stirring once or twice.
Add broth and finish soup: Return the strained clam broth to the pot, along with the potato, thyme, and bay leaf; season with salt and pepper. Bring to a boil, and then reduce to a simmer and cook until the potato is tender but not falling apart, 6 to 8 minutes (if desired, mash a few against the side of the pot to thicken the broth slightly). Stir in clams and cream and cook just until heated through, no more than a minute or so. (Do not boil, or cream will separate and clams will toughen.) Season with salt and pepper and serve immediately.
Makes 6 cups.
Information
Category

Soups/Stews, Chowder

Cuisine

North American