New Malt Beverage Blast by Colt 45
Would You Drink This Fruity Malt Beverage?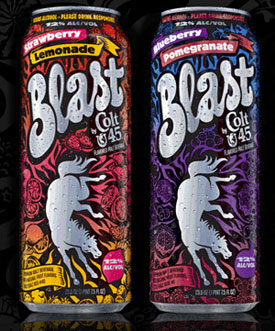 The Four Loko hype may have died out, but don't expect the novelty alcoholic beverage trend to disappear just yet. Pabst Brewing Co., which also produces Colt 45, is adding another beverage to its lineup: Blast, a "premium malt beverage with natural fruit flavors." The drink will come in innocent-sounding flavors like strawberry lemonade and blueberry pomegranate, but at 12 percent alcohol (twice the amount found in PBR or Colt 45), it's definitely not for kids.
Pabst Brewing Co. — along with Blast's spokesman, Snoop Dogg — is hoping to target women in their late 20s with the fruity drink. Would you drink it?