New Orleans Red Beans and Rice Recipe
For Fat Tuesday or Any Monday: Red Beans and Rice
In New Orleans, red beans and rice are a weekly tradition, typically served on Mondays. I love to eat them every year on Fat Tuesday. But one thing remains a constant: a hearty meal slow-cooked on laundry day.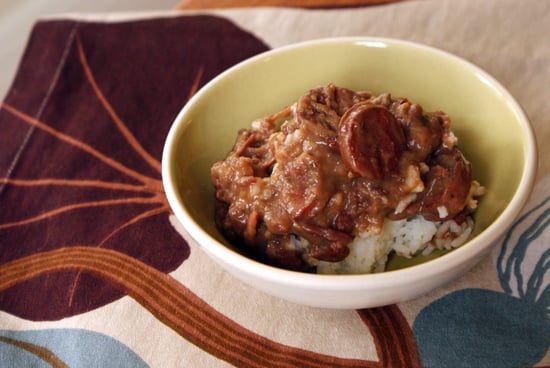 Historically, Monday was wash day in early 1900s Louisiana. The laundry took all day, so women would cook the beans and meat while the laundry dried. Today, most restaurants in New Orleans still feature red beans and rice as the Monday special.
My laundry day is Sunday, but it's just as suitable for red beans and rice cooking. It takes a little advanced planning, soaking the beans starting Saturday night, but once you've gotten that out of the way, it's ridiculously easy: put all ingredients in a pot and cook for three hours.
I like to make a lot and eat the leftovers throughout the week, since the flavors only improve with time. I do, however, like to make the rice fresh each day; this method leaves it just a little bit wet, which is the perfect complement to the thick, spicy gravy of beans. Get the recipe now.
Ingredients
For the rice:
2 cups long-grain white rice
4 cups cold water
2 teaspoons salt
2 teaspoons salt butter
For the red beans:
2 pounds dried red (kidney) beans, soaked overnight in cold water to cover
2 cups chopped onion
1/2 cup thinly sliced green onion tops
1/2 cup chopped green pepper
1 1/3 tablespoons finely minced garlic
2 tablespoons finely minced fresh parsley
1 pound cooked andouille sausage, cut into 1/2-inch-thick slices
1 to 1 1/2 pounds ham hocks, on the bone
1 tablespoon salt
1/2 teaspoon freshly ground black pepper
1/8 teaspoon cayenne
1/8 teaspoon crushed red pepper pods
2 whole bay leaves, broken into quarters
1/2 teaspoon dried thyme
1/8 teaspoon dried basil
2 quarts cold water, approximately
Directions
For the rice:
Combine all the ingredients in a heavy 3-quart saucepan with a tight-fitting cover and bring to a boil over high heat. Stir once with a fork, then cover tightly and reduce the heat to very low.
Cook covered for exactly 15 minutes. Do not lift the cover during cooking.
Remove the pan from heat , uncover, and fluff the rice gently with a fork.
Serves 8.


For the red beans:
Drain the soaked beans in a colander and put them, along with all the other ingredients, into a heavy 8- to 10-quart pot, adding just enough of the cold water to cover.
Bring to a boil over high heat, then lower the heat and simmer on low heat for 2 1/2 to 3 hours, or until the beans are tender and a thick, natural gravy has formed.
Add about 1 cup of water toward the end of cooking if the mixture appears too dry. If the mixture is too watery — it should have the consistency of gravy — continue to cook on low heat until it reaches desired thickness.
During cooking, stir frequently and scrape down the sides and across the bottom of the pot with a wooden spoon or spatula to prevent scorching. (If you use a heavy pot and very low heat — just high enough to keep the barest simmer going — you should have no problem with beans sticking to the pot during cooking.)
Stir the entire mixture thoroughly just once about every half hour, letting the ham fall off the bone in the process.
When the beans are cooked, turn off the heat. To serve, ladle about 1 1/2 cups of beans, with meat and gravy and without bay leaves or bones, over a portion (about 2/3 cup) of boiled rice.
Serves 8 or more.
Information
Category

Main Dishes, Beans

Cuisine

Cajun/Creole