New Product Review: New York Style Risotto Chips
Taste Test: Risotto Chips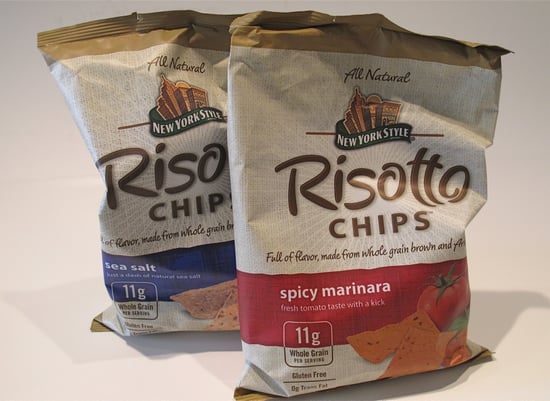 I've got a penchant for risotto and Katie has a debilitating weakness for chips, so we were definitely intrigued when we received a box of Risotto Chips ($3.49), a new creation released last month by New York Style (the brand behind those irresistible Bagel Crisps). They proclaimed to be all natural, gluten-free, and full of flavor. Were they all that and more? Keep reading to find out.
Risotto chips taste nothing like the Italian rice dish. The name probably comes from the fact that they are made from Arborio rice, the main ingredient in risotto, along with whole-grain brown rice. With a weightless crunch and bits of nutty seeds scattered across them, these snacks look and taste remarkably like the flaxseed tortilla chips I've purchased in the past from Trader Joe's. They come in three flavors:
Sea Salt: Katie usually prefers plain, unadorned chips, so she gravitated toward this one. With just a kiss of sea salt, the toasted brown rice and flaxseed flavors were able to shine through.
Parmesan & Roasted Garlic: This flavor was our least favorite of the bunch. It had an artificial aftertaste, and not enough intensity of flavor.
Spicy Marinara: My favorite of the three had the most pungent of flavors. It reminded me of a Nacho Cheese Dorito with a spicier end note.
But it wasn't until after I'd downed a large handful of these that I realized something. You know that unmistakable grittiness that you get on your teeth when you've eaten a bit of undercooked risotto that's still sort of hard in the middle? We experienced the exact same sensation. Sure, these chips may be celiac-friendly and full of health claims, but as diehard tortilla chip lovers, they just don't cut it for us.
Have you tried these chips? If so, do you hold the same sentiments?