New Shows on Food Network and Cooking Channel
Food Network and Cooking Channel Have Lots Brewing For 2011, 2012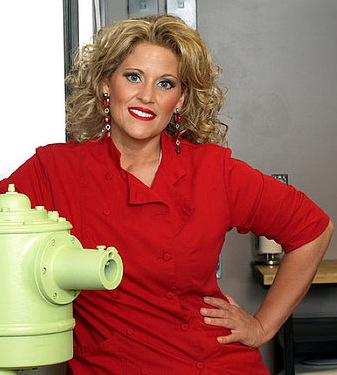 Food Network doesn't just have a new wine coming out — it's also got a roster of brand-new shows for both daytime and primetime.
The surprising programming offers a broad range of variety, from the cooking-centric (on the ranch with Pioneer Woman and blogger Ree Drummond) to the reality-heavy (a squabbling, multigenerational family of cookie bakers).
To see the full list, keep reading.

Food Network Primetime
Have Cake, Will Travel: Go on the road with cake decorator Ashley Vicos. Premieres April 26, 9 p.m.
Best in Smoke: America's barbecue masters go head-to-head in New York for $50,000. Premieres May 8, 10 p.m.
Crave: Food writer Troy Johnson examines the history and appeal popular dishes and trends. Premieres June 20, 10 p.m.
Heat Seekers: Aarón Sánchez and Roger Mooking are on a quest to find the best spicy foods countrywide. Premieres July 2011.
Tough Cookies: A look at the squabbling, multigenerational family behind Crazy Susan's cookie shop. Premieres July 2011.
Chef Hunter: Chef recruiter Carrie McCully puts rising star chefs on the line for an executive chef position at a prestigious restaurant. Premieres August 2011.
Sugar High: Duff Goldman's back, and on a road trip to find the best desserts in America. Premieres August 8, 10:30 p.m.
Halloween Wars: Five teams of cake decorators, candy makers, and pumpkin carvers compete to prove they're best in Halloween treats. Premieres October 2011.
Supersizers: Two food adventurers step back in time to see what it's really like to live and eat in a bygone era. Premieres January 2012.
Food Network Daytime
Pioneer Woman: Blogger and author Ree Drummond invites viewers into her home on the range, and shares her special brand of home cooking. Premieres August 2011.
Food Network Star Winner Series: A new series from the season seven winner of Food Network Star. Premieres August 2011.
Trisha Yearwood Series: This yet-to-be-titled series takes viewers into the kitchen of country star and cookbook author Trisha Yearwood. Premieres September 2011.
Cooking Channel Primetime
Eat St.: Comedian James Cunningham travels across the country seeking out the best curbside eats. Premieres April 12, 8 p.m.
Unique Sweets: An inside look at the most innovative desserts across the US. Premieres April 24, 10:30 p.m.
The Originals With Emeril:

Emeril Lagasse

pays tribute to iconic establishments that have shaped America's culinary heritage. Premieres May 5, 10:30 p.m.
From Spain with Love: Annie Sibonney uncovers the rich history behind Spain's food culture. Premieres May 27, 9 p.m.
Hook, Line, & Dinner: Expert fisherman Ben Sargent is on the ultimate coastal road trip to discover the best shore food in the country. Premieres June 7, 10:30 p.m.
Cooking Channel Daytime:
Ching-He Huang's New Series: In this still-unnamed San Francisco series, Ching-He Huang of Chinese Food Made Easy explores the recipes and ingredients behind Chinese cooking. Premieres July 2011.
The Perfect 3: Cooking Channel spotlights three standout dishes in 13 classic categories, including burgers, brownies, sandwiches, and salads. Premieres July 2011.
Baking Made Easy: UK baker Lorraine Pascale shares her knowledge of baking sweet and savory recipes. Premieres Fall 2011.
Not mentioned in the official announcement but also in the works is a collaboration between Rachael Ray and Guy Fieri that's been described as a "culinary version of Dancing With the Stars." Which new programs sound promising, and which are you likely to pass over?