New Vodka and Bourbon Flavors 2013
The Craziest, Tastiest Booze at NYCWFF
Though the New York City Wine & Food Festival has "wine" in its name, the wines trotted out this year failed to pique our interest as much as the delicious, bizarre, and sometimes downright icky booze offerings. We braved the gauntlet of flavored vodka shots and margaritas in plastic cups to round up the most fascinating, for better or for worse.
Pinnacle Fall Vodkas
Known for its crazy vodka flavors, Pinnacle sampled its new, Fall-themed lineup, including pumpkin pie flavor, which was just downright weird. Apparently, the pumpkin craze is creeping into liquor, but so far we haven't found one that doesn't make us wish we were drinking a pumpkin spice latte instead.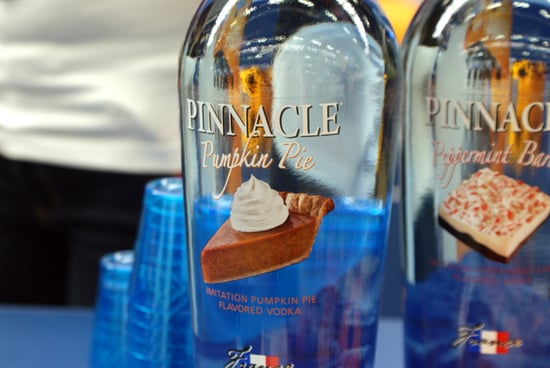 The pecan pie, on the other hand, was surprisingly tasty and will appeal to fans of Frangelico. I suspect it would taste yummy in a White Russian.
Tito's Vodka
Made in Austin, TX, this unflavored but flavorful (and affordable) vodka is now my go-to. Unlike some neutral spirits, it has a slightly earthy, herbaceous flavor but not so much that it destroys a subtle cocktail like this mint-adorned lemonade.
Knob Creek Smoked Maple Bourbon
This bourbon was one of several maple-accented spirits we spotted at the festival, and the smoked maple flavor was subtle enough not to interfere with our love for bourbon.
See more new ways to get drunk after the break.
Don Q Mojito
This slightly sweet, mint-infused Puerto Rican rum makes mojitos dangerously easy to mix, and this watermelon mojito cocktail was dangerously easy to drink.
Jagermeister Spice
Could this be Jagermeister's attempt to win back the bar-shot scene from Fireball? Though we prefer the original Jager, the Spice version is tastier than the cinnamon-flavored whiskey.
Ty Ku
A great introduction to sake for drinkers unfamiliar with the spirit, Ty Ku sakes taste mild, smooth, and exactly like rice. A coconut-infused version made for a yummy, light colada.
2Nite Vodka
Though the hand-painted bottles look like they'd be at home in 1980s Miami, the vodka inside tastes perfectly current. The espresso flavor (pictured at left) is worthy of a cup of strong coffee in Rome.