New Year's Eve Dinner Menu and Recipes
Come Party With Me: New Year's Eve Dinner — Menu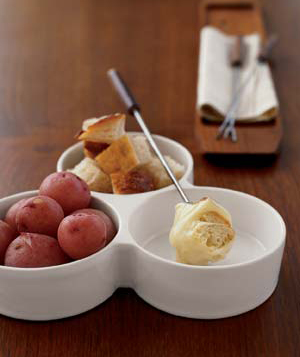 Instead of joining the crowds of party-goers this New Year's Eve, I'm staying in, and I invite you to do the same! Call up some friends and host a festive and special dinner party that lasts until the countdown. Start with a luxurious duo of appetizers: oysters on the half shell with two types of sauces (cucumber mignonette and classic cocktail sauce) and a bubbling pot of cheese fondue with lots of delicious items for dipping (bread cubes, potatoes, broccoli, etc.). For the main course, offer a thick and slow-cooked pork ragu with pasta. It's comforting and hearty. Crusty bread and a big green salad round out the menu. Check out the recommended recipes after the break.
Raw Oysters on the Half Shell With Cucumber Mignonette
From Tyler Florence
Ingredients
12 large West Coast oysters
Crushed ice or rock salt
Cucumber Mignonette Sauce:
1 cup rice wine vinegar
1 shallot, minced
1 (1-inch) piece fresh ginger, peeled and grated
1/2 hothouse cucumber, peeled and minced
1 tablespoon sugar
Several turns freshly ground black pepper
Cocktail Sauce:
2 tablespoons prepared horseradish
1 cup ketchup
1 teaspoon Worcestershire sauce
1/4 teaspoon hot sauce, or to taste
1 lemon, juiced
Directions
For the Oysters: Begin by shucking oysters. Find a durable, thick cloth and fold it over several times to create a square; this will steady the oysters as you shuck them and also protect your hand. Using the towel as a mitt, hold the oyster firmly on a flat surface. Insert the tip of your oyster knife between the shell halves, and work it around 1 side to the other as you pry it open. Using the knife, cut the muscles away from the top, flat shell, bend the shell back, and discard it. Run the knife underneath the oyster to detach it completely, but leave it in its shell (take care not to cut the meat itself). Nestle the oysters in a bed of crushed ice or wet rock salt to keep them steady. Serve immediately with the sauces.
For the Cucumber Mignonette Sauce: In a small bowl, combine the rice wine vinegar, shallots, ginger, cucumber, sugar and black pepper; mixing with a fork.
Cover and chill for at least 1 hour or up to the day before you plan to serve, to allow the flavors to come together. Serve with raw oysters.
For the Cocktail Sauce: Mix ingredients in a blender to combine. Cover and refrigerate until ready to use.
Serves 4.
Information
Category

Seafood, Appetizers

Cuisine

North American
Ingredients
1 clove garlic, halved
1/2 cup fruity white wine, such as Gewurztraminer
1 tablespoon lemon juice
1 teaspoon Dijon mustard
1 pound Jarlsberg or Emmental, grated (8 cups)
1 pound Italian Fontina, grated (8 cups)
1 pound sourdough bread, cut into 1-inch cubes
1 pound boiled small red potatoes
Directions
Rub the inside of a medium saucepan with the garlic clove; discard.
Add the wine, lemon juice, and mustard and whisk. Heat to simmering over medium heat. Add the cheese, 1 cup at a time, and stir with a wooden spoon until smooth.
Pour into a fondue pot, or set the saucepan on a trivet. Serve immediately with the bread and potatoes.
Serves 6.
Information
Category

Dips, Appetizers

Cuisine

North American
Rigatoni With Pork Ragù and Fresh Ricotta
From Food & Wine
Ingredients
2 tablespoons extra-virgin olive oil
1 medium onion, finely chopped
1/2 cup coarsely chopped basil, plus 4 tiny basil sprigs for garnish
1/4 cup coarsely chopped mint
1 tablespoon coarsely chopped sage
1 teaspoon minced rosemary
1 pound ground pork
Salt and freshly ground pepper
1/2 cup red wine
One 28-ounce can Italian plum tomatoes, crushed with their liquid
1/4 teaspoon fennel seeds
1 1/2 cups fresh whole-milk ricotta
1/4 cup milk
1 teaspoon minced marjoram
1 pound rigatoni
Directions
Heat the olive oil in a large saucepan. Add the onion, chopped basil, mint, sage and rosemary and cook over low heat, stirring occasionally, until the onion has softened, about 7 minutes.
Add the ground pork, season with salt and pepper and cook over moderate heat, breaking up the pork, until the meat is mostly white. Add the wine and cook until almost evaporated, about 4 minutes.
Add the tomatoes with their liquid and simmer over low heat for 1 hour, stirring occasionally. Stir in the fennel seeds and season with salt and pepper.
In a bowl, stir the ricotta, then stir in the milk and marjoram and season with salt and pepper. Spoon the ricotta into shallow pasta bowls.
Cook the rigatoni in boiling salted water until al dente, then drain. Add the pasta to the ragù and simmer, stirring, for 1 minute; season with salt and pepper. Spoon the pasta into the bowls, garnish with the basil sprigs and serve.
Serves 4.


Make Ahead: The pork ragù can be refrigerated for 3 days.
Information
Category

Main Dishes, Pork

Cuisine

Italian