New York Chef Daniel Angerer Makes Breast Milk Cheese
New York Chef Serves Up Breast Milk Cheese
When it comes to homemade cheese, is breast best? That's what Daniel Angerer thinks. The chef, who owns Klee Brasserie with wife Lori Mason, has garnered attention for, among other things, squaring off against Bobby Flay in Iron Chef America. But lately, he's been making headlines for a different reason: serving cheese made from his wife's breast milk.
It all began when Angerer noticed his wife producing breast milk faster than daughter Arabella Caroline could handle. "To throw it out would be like wasting gold," he wrote. So he used the surplus to make what he called My Spouse's Mommy Milk Cheese, even posting the recipe on his blog.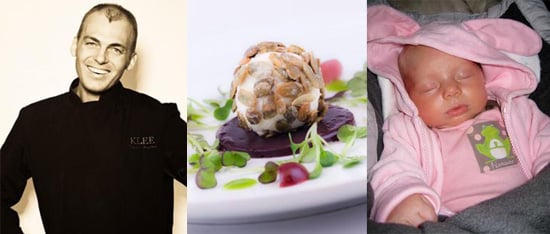 "The phone was ringing off the hook," Angerer told the New York Post, who first broke the story. "So I prepared a little canape of breast milk cheese with figs and Hungarian pepper."
After some calls from the health department, the chef, who claims he served the cheese only to friends and family, won't be putting it on the menu. Still, he describes it as "like cow's-milk cheese, kind of sweet." Even though I'm sure he's right, I'm completely rankled by the idea. Would you try breast milk cheese?