This coming weekend marks the sixth annual New York City Wine & Food Festival, where foodies flock to New York to eat like royalty and rub shoulders with chefs and food personalities. Dinners, demos, and grand tastings takes place Oct. 17-20. Each year, our editors attend the festival to catch up with chefs, spot new food trends, and declare our new favorite food products. Still scratching your head? These six reasons should convince you that the event needs to be on your radar this year.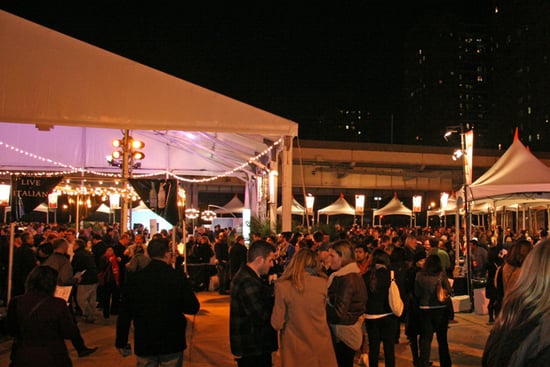 The Tickets Raise Money For a Good Cause
All the festival proceeds go to the Food Bank For New York City and Share Our Strength's No Kid Hungry campaign. With its more than 50,000 attendees, you can imagine a lot of food and millions of dollars are raised for the cause. See the entire festival breakdown, by the numbers.
Discover Top Food Trends
We spotted pickles, Jewish deli foods, and Korean as just a few major new food trends during last year's festival.
Read on for more reasons.
See New York's Five-Star Burgers
At Rachael Ray's Burger Bash, dozens of destinations in New York City gather to grill their signature burgers for a chance to win big cash prizes. Our favorite burgers from last year included Ai Fiori, Gotham Bar and Grill, and Bobby's Burger Palace, who knew how to flip and garnish burgers like whoa.
Hear Revelations From Big Names in the Food Biz
Paula Deen was at the height of her glory at last year's festival. She revealed some shocking facts about herself, including her life with diabetes and thoughts on prejudice.
Preview Never-Before-Seen Dishes
The festival is the place for companies to test new products to gauge the public's reaction. Our favorite unreleased dish of the entire weekend had to be Chipotle's barbacoa chili. It may be a decade before Chipotle puts the chili on its menus, but not to worry. As soon as we got home, we hacked a homemade version using Chipotle ingredients.
Learn New Ways of Doing Things, Like Pickling
Food demos are a way for chefs to teach home cooks their professional tricks. Roy Choi showed us his method of pickling, the Korean way. Have you ever heard of pickling underripe pear? Thanks to Roy, now you have.
Want to see more? For real-time updates, be sure to follow us on Twitter and Instagram.