There's hardly a better place than the New York City Wine & Food Festival [1] for eating, drinking, partying, and, of course, trend-spotting. It was inevitable that amid eating hundreds of bites of different foods, we'd spot at least a few trends. Here are some of our takeaways.
Jewish Deli 2.0
A new order of Jewish restaurants has emerged in major cities like New York and San Francisco, and this was hugely reflected at the festival, in the Modern-Day Jewish Food [2] seminar we attended by Kutsher's Tribeca [3], as well as numerous bites, like Marc Forgione's everything bagel [4] and Mile End's chopped level on pletzel [5].
Photo: Anna Monette Roberts
Crispy Onions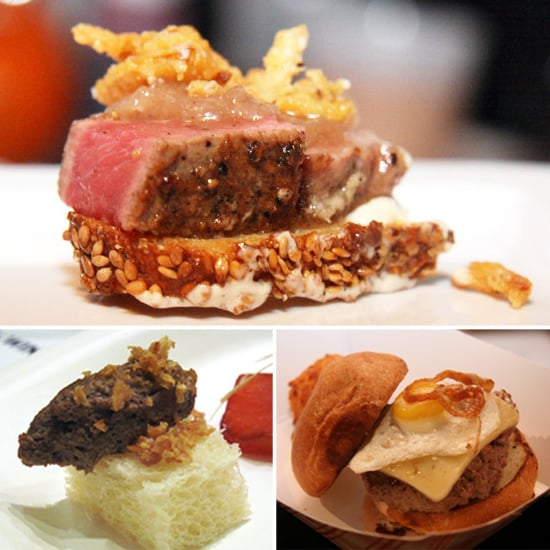 "Crispy onions?" you're probably asking yourself. "Really?" Yes, really. As it turns out, crispy, frizzled brown bits add depth of flavor and varied texture to everything, whether it's Alex's rib-eye steak sandwich [6], Kutsher's gribenes on chicken liver, The Capital Grille's egg-topped burger [7].
Photos: Anna Monette Roberts and Susannah Chen
Korean
That Korean food fad [8] shows no signs of stopping. Whether we were learning how to make pickles the Korean way [9], noshing on Spike's sweetbreads with kimchi [10], or savoring grilled kimcheese [11] at Porsena Extra Bar, we sensed Seoultown spirit everywhere.
Photo: Anna Monette Roberts
Small-Batch Pickles
Move over, Claussen and Vlasic: it's small-batch brineries' time to shine. Detroit-based purveyor (and Burger Bash sponsor [12] McClure's showed up at Brooklyn's Backyard; Brooklyn Brine Co. [13] presented its offerings at the Grand Tasting, and if that wasn't enough, Roy Choi could show you how [14] to make trendy, house-made pickles [15] yourself.
Photos: Anna Monette Roberts
Cured Fish
While raw fish preparations like crudo and sashimi are always well-loved, chefs seemed more excited to experiment with cured fish preparations this year. At the Modern-Day Jewish Food [16] seminar, Kutsher's presented a salty-sweet smoked piece salmon; at the Next Iron Chef party, Morimoto greeted guests with yellowtail prepared in the style of pastrami [17]; and the Torrisi crew wowed us with a "lightly-cured tuna [18]" topped with chili, mint, lemon, and pine nuts.