New Zealand Sauvignon Blanc
What You Should Know About New Zealand Sauvignon Blanc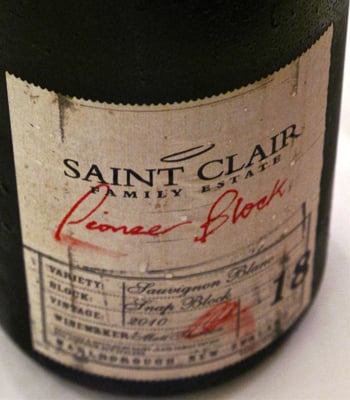 "The Sauvignon Blanc grape owes a lot to New Zealand," wine writer Eric Asimov once wrote. He's right: New Zealand winegrowers have a talent for balancing fruitiness and bracing acidity in every glass, leaving behind a crisp finish that often contrasts the heavy oakiness of that other white grape, Chardonnay. Plus, its producers often favor the screw cap, something that belies a greater philosophy about wine that I couldn't agree more with: it should be enjoyed anytime, anywhere, for any occasion.
I asked wine buyer Carlo Wismer of San Francisco's The Jug Shop to talk shop about one of the New World's most popular white wines. He offered his thoughts on what makes New Zealand Sauvignon Blanc so popular; see them when you keep reading.
It's New Zealand's most recognizable wine style. It's also the largest; in 2009, the country exported almost 92 million liters of Sauvignon Blanc. Eighty percent of this comes from Marlborough, a stretch of dry coastline that spans the north end of the country's South Island.
It has a unique flavor profile. "New Zealand Sauv Blanc has a distinctive array of exotic flavors that taste like no other wines," Wismer told me. Among the flavor profile descriptions you'll often find are lime, gooseberry, tropical fruit, and grass.
That said, there are some regional differences. Much of the Kiwi Sauvignon Blanc that's out there comes from Marlborough, and it's characterized by an explosive fruit forwardness and clean, crisp finish. But the same varietal from New Zealand's North Island tends to show softer, riper, more tropical characteristics, Wismer says.
Its growers employ cutting-edge practices. This isn't just limited to screw-capped bottles. One technology heavily in use is "canopy management," a method of controlling vine leaves that maximizes the grapes' exposure to sunlight, ensuring utmost ripeness.
It's a match

made in heaven

with Pacific Rim cuisine. Says Carlo: "Bold flavors and the abundance of chiles, citrus, and tropical fruit match the herbal flavors of New Zealand Sauvignon Blanc." Among his favorite producers? Established brands like Cloudy Bay, Saint Clair, Craggy Range, Isabel, and Huia.
Will you, like me, go out of your way to find Sauvignon Blanc specifically from New Zealand? If so, what do you like about it?