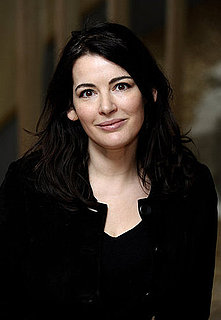 If you're a huge fan of Nigella Lawson, like I am, get excited. The British bombshell of a chef is set to begin filming a new series. In an interview with TV Squad, Lawson reveals that a program based on her recently released cookbook, Nigella Fresh, will start shooting in a month or so. She describes the show as being fresh in ideas, recipes, and her own enthusiasm:

"It's not going to be a new season of 'Nigella Express,' but there will be many recipes that embrace the 'Express' principle. It'll be much more mixed, it's going to be the sort of food that fits into life in the kitchen all days of the week. There will be very fast recipes and there will be recipes that take a long time to cook, but involve no effort and there will be a little bit of everything, really."
Lawson is a mother of two, so it's no surprise that she is expanding her quick-cooking regime. She's also an authority on sensual cuisine and I can't wait to see what she's got up her sleeve on this new series. How about you? Will you tune in to Nigella in the Fall?