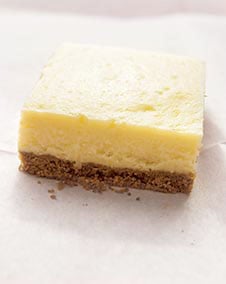 With the Super Bowl [1] just a few days away everyone is scrambling for yummy dessert recipes to serve at their parties. I know when you hear the words "Super Bowl" brownies and chocolate instantly come to mind, but what about lemon cheesecake squares? It's like lemon bars and cheesecake all wrapped into one divinely delicious little package. It's an unexpected, elegant dessert that is sure to have your crowd cheering. If you are doing brownies, the lemon cheesecake squares will pair nicely. To indulge yourself in this dessert,

Lemon Cheesecake Squares [2]
From Martha Stewart
For the crust:
8 graham crackers (each 2 1/2 by 5 inches)
2 tablespoons sugar
3 tablespoons unsalted butter, melted
For the filling:
2 bars (8 ounces each) cream cheese, room temperature
3/4 cup sugar
2 large eggs
finely grated zest and juice of 1 lemon (2 to 3 teaspoons zest and about 3 tablespoons juice)
Make the crust: Preheat oven to 325°.
Line bottom and sides of an 8-inch square baking pan with aluminum foil, leaving an overhang on all sides. Crimp overhang under rim of pan.
In a food processor, blend graham crackers with sugar until finely ground; add butter and pulse until moistened.
Transfer crumb mixture to prepared pan, and pat in gently (wipe processor bowl clean, and reserve for making filling). Bake until beginning to brown, 10 to 12 minutes. While crust is baking, make filling.
Make the filling: Place cream cheese in food processor; blend until smooth. Add sugar, eggs, lemon zest, and lemon juice; blend until smooth.
Pour mixture onto hot crust in pan; smooth top. Return to oven, and bake until set (filling should jiggle only slightly when pan is gently shaken), 30 to 35 minutes.
Cool completely in pan. Cover very loosely with plastic wrap; chill until firm, at least 2 hours (and up to 2 days).
Use foil overhang to lift cheesecake out of pan. With metal spatula, lift cheesecake from foil; cut into 16 squares.
Makes 16