Nutella No Bake Frozen Pie
Nutella + Wafer Cookies = Ferrero Rocher Frozen Pie
After drooling over PartySugar's mojito cakes, I wanted to experiment with my own freezer pie. When searching for a recipe, I remembered one of my favorite frozen dessert cookbooks, Icebox Pies by Lauren Chattman. Since I'm crazy for Nutella, I decided to make her Gianduia Pie. Gianduia is a type of chocolate candy made with hazelnuts or almonds. I was unable to find chocolate wafer cookies, so I substituted Fudge Stick cookies, a wafer sandwich-cookie covered in chocolate. To my delight, the creamy, chocolately, hazelnut filling and crunchy crust reminded me of delicious Ferrero Rocher chocolates, minus the gold wrapping! Learn how to make this divine yet minimal, no-bake pie when you,
!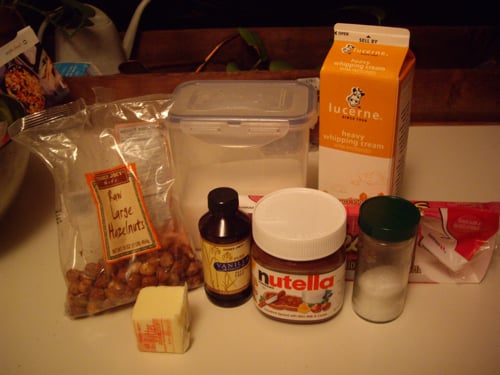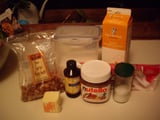 Ingredients
Crust
1/2 cup hazelnuts, toasted and skinned
1/4 cup unsalted butter, melted and cooled
1 tablespoon sugar
1/8 teaspoon salt
1/2 teaspoon pure vanilla extract
Filling
3/4 cup hazelnuts, toasted and skinned
1 1/2 cup heavy cream, chilled
1 teaspoon pure vanilla extract
1 13 ounce jar of Nutella
Directions
Preheat the oven 350°F. Place all of hazelnuts (1 1/4 cup) on a baking sheet. Bake for 10 minutes until they are fragrant.
Place the nuts on a clean kitchen towel and let cool for 10 to 15 minutes. Once cool, rub the nuts with the towel to remove the skin. A little skin won't hurt but try to remove as much as possible.
Make the crust: place the nuts and cookies in a food processor and grind finely. Combine the crumb and nut mixture, butter, sugar, salt, and vanilla in a medium size mixing bowl and stir until the crumb and nut mixture is moistened.
Press the mixture evenly across the bottom of a 9-inch pie plate and all the way up the sides of the pan, packing it tightly with your fingertips so it is even and compacted.
Bake the crust for 15-20 minutes until edges start to become firm. The crust will become more firm as it cools. Let cool completely before filling. The crust may be wrapped in plastic wrap and frozen for up to 1 month.
Make the filling: place 3/4 cup toasted and skinned hazelnuts in a food processor and process until very fine.
Combine the cream and vanilla in large mixing bowl. Using an electric mixer, whip the cream until stiff peaks form.
Place the Nutella in a medium-size mixing bowl and stir in one quarter of the whipped cream.
Gently fold the lightened Nutella mixture back into the remaining whipped cream. Fold in the chopped hazelnuts.
Scrape the filling into the prepared pie shell and smooth the top with a rubber spatula. Cover the pie with plastic wrap and refrigerate until the filling is completely set, at least 6 hours and up to 1 day.
Serves 8 or makes one 9-inch pie.
Information
Category

Desserts, Pies/Tarts