 Besides cosmopolitans, Fab and I offered guests Flirtinis at our Sex and the City Marathon. Like the cosmo, a Flirtini is a cocktail that was featured on an episode of the show. The Flirtini also happens to be Danny's signature drink, and he has making them down to a science. Luckily he taught me the technique for this simple, stylish cocktail that combines pineapple juice, vodka, and Champagne. He recommends chilling the three ingredients hours before mixing the drink. I suggest making a large batch because these babies go down like water! To make these cocktails today — cheers it's Friday! —
.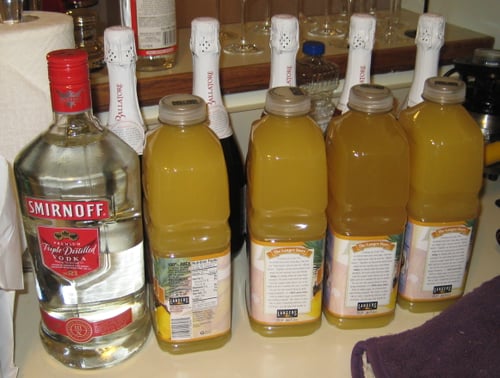 Ingredients
1 oz. Vodka
2 oz. Champagne
2 oz. Pineapple Juice
Directions
Combine vodka, Champagne, and pineapple juice in a highball or collins glass filled with ice. For a party multiply recipe and mix in a pitcher.
Makes 1 cocktail.
Information
Category

Drinks, Cocktails