Open-Face Ratatouille Sandwich
'Wich of the Week: Open-Face Ratatouille Sandwich
Sometimes even a sandwich lover needs a serious serving of vegetables, so the other night, I turned my nutrition attention to these yummy open-face ratatouille sandwiches, made with roasted eggplant and red pepper, among other hearty things. Initially, I made the sandwiches according to the recipe, and they were perfectly delicious with just a drizzle of balsamic vinegar and a dusting of herbs. But I thought they needed something to close up their open-facedness, so I also made a version with melted provolone, which I preferred. For more details and to get the recipe,
.
Roasting makes the veggies very moist, and the balsamic vinegar helps hold them all together. I definitely endorse the fresh thyme garnish, which makes it more interesting. Since the veggies are somewhat mild, I recommend using a high-quality artisan bread with a strong flavor, such as olive bread; I found a delicious chili bread at Trader Joe's, and the spiciness was a nice touch. I didn't have zucchini, so I left it out, but that doesn't mean you should. Check out the recipe below.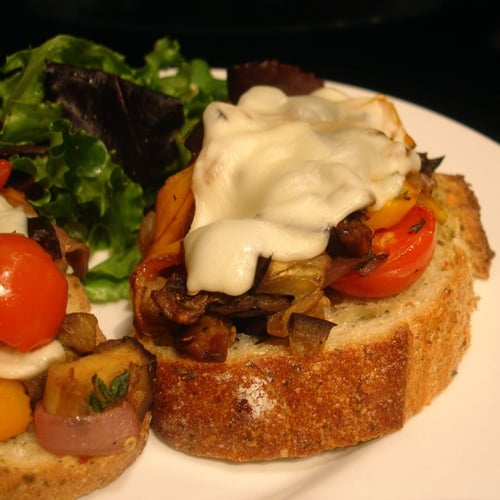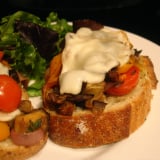 Ingredients
1 small eggplant, cut into 1-inch pieces
1 small zucchini or yellow summer squash, cut into 3/4-inch slices
1 medium red pepper, cut in strips
1/2 of a small red onion, cut in 1/2-inch wedges
1 tablespoon olive oil
1/2 teaspoon herbes de Provence, crushed
6 cherry tomatoes, halved
4 large 1/2-inch slices artisan bread, such as chili bread or olive bread
1 clove roasted garlic, halved
2 tablespoon balsamic vinegar
4 slices of provolone cheese
Fresh thyme sprigs (optional)
Directions
Preheat oven to 400 degrees F. Coat a large shallow roasting pan with nonstick cooking spray. Add eggplant, zucchini, red pepper, and onion to prepared pan. Drizzle with olive oil and sprinkle with herbes de Provence, 1/8 teaspoon salt, and 1/8 teaspoon black pepper. Toss to coat.

Roast vegetables 30 minutes, tossing once. Add tomatoes to roasting pan. Roast 15 to 20 minutes more or until vegetables are tender and some surface areas are lightly browned.

Meanwhile, rub bread with cut sides of the garlic clove. Place one slice of the bread on each of four serving plates. Sprinkle balsamic vinegar over vegetables; toss gently to coat.

Spoon warm vegetables on bread. If desired, garnish with fresh thyme sprigs. Cover each sandwich with a slice of cheese and return to oven until bread is toasted and cheese is melted, about 5 minutes.
Makes 4 sandwiches.
Nutrition Facts (without cheese): Calories 250, Total Fat (g) 7, Saturated Fat (g) 1, Cholesterol (mg) 0, Sodium (mg) 328, Carbohydrate (g) 43, Fiber (g) 8, Protein (g) 7, Vitamin C (DV%) 90, Calcium (DV%) 5, Iron (DV%) 14
Information
Category

Main Dishes, Sandwiches