Oreo Dream Extreme Cheesecake
Taste Test: Cheesecake Factory's Oreo Dream Extreme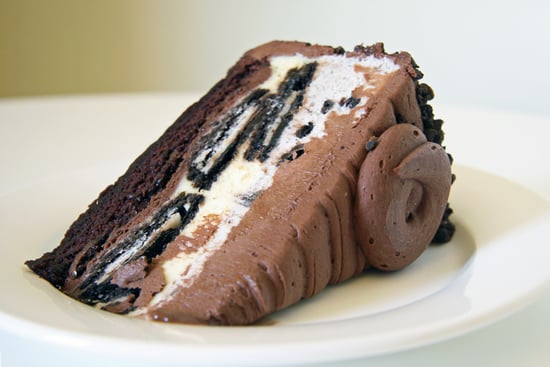 There's nothing better than Oreos baked into other desserts, so we were thrilled when we received an Oreo Dream Extreme Cheesecake from the Cheesecake Factory. The restaurant empire released this limited-edition flavor to its stores on July 30 to celebrate both National Cheesecake Day and the 100th birthday of the Oreo.
Get it while it lasts, because this is no ordinary cheesecake. It has archaeological layers of chocolate-y goodness waiting to be discovered. Starting with an unctuous layer of chocolate cake, it's followed by whole Oreo cookies embedded in vanilla cheesecake. A sizable spread of chocolate icing blankets the whole thing, and, finally, mini chocolate chips, studded around the sides, add a little crunch to the otherwise smooth slice. Our eyes feasted, but what about our palates? Take a look at our comments and ratings of this extreme cheesecake.
The promise for the Oreo Dream Extreme Cheesecake: The press release proclaimed it "unites the Cheesecake Factory's unrivaled cheesecake with the incomparable creme-filled chocolate wafer cookie. Layers of moist fudge cake and Oreo cookie mousse, topped with milk chocolate icing . . . is your mouth watering yet??"
What our tasters thought: "Is this a cheesecake or a cake?" many of our taste testers complained. Almost all agreed that it was really too sweet, with too much chocolate frosting and not enough cheesecake and Oreos. However, the few who don't typically like cheesecake loved all the "layers of stuff going on," especially the "thick, rich chocolate cake."
What YumSugar thought: This "cheesecake" piles on too many types of desserts into one, making it lose its cheesecake identity. Cake, cookies, cheesecake, and mousse all taste great alone, but layered together, the Oreo cheesecake just turns into a snafu. The cheesecake was rich and tooth-achingly sweet, and we found it better to sneak occasional bites throughout the afternoon rather than eat a whole slice in one sitting.
Final thoughts: Would we order a slice of this cheesecake after a colossal meal at the Cheesecake Factory? Not likely. The Oreo Dream Extreme Cheesecake is more of a late-night indulgence, in the way that an entire pint of Ben & Jerry's Half Baked ice cream seems like a great idea after hitting the bars. Yet ultimately, it's so sinful, you wish you could forget you went there. In conclusion, we decided that this particular flavor is part dream and part extreme.
Tasters' rating average: